Light colours in daytime LED products
Choices in color temperature
Daytime LED lights give you a choice between various light colors that help you create different moods in your aquarium, as you desire. Our article "Color temperature as a design element" is a good read on the subject, too.
In the three model series manufactured by daytime, you can choose different light colors for the different types. In the case of custom-made lighting systems of the eco series, you can choose a separate color for each LED strip. In prefabricated lights, two strips of the same light color are common. In a custom-ordered lighting system, an additional third LED strip can be installed. Here you have the opportunity to combine three different light colors in one lamp body.
In the cluster and matrix series, daytime relies on individual LED modules mounted on an aluminium heat sink. The number of modules that fit on one rail depends on the total length of the lamp. You can pick a color for each light module individually.
Various white light tones are available. Apart from that, LED lights with the color "Ultra Blue Red White" are not just equipped with white but also with red and blue diodes. With a suitable controller, you can regulate all the light colors of the matrix and cluster models (of the variant "control") individually. This allows daylight simulations with effects such as dawn and blue moonlight.
Overview of the different light colors for a freshwater aquarium:
Warm White
here
for a color example.
Neutral White
here
for a color example.
Ultra White
here
for a color example.
Ultra Blue Red White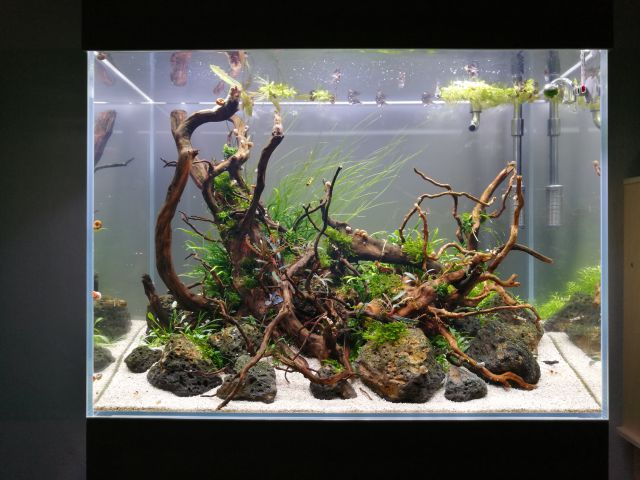 An aquascape by Marcel Dykierek with a daytime LED lighting system equipped with UBRW modules on a matrix rail. The color settings are as follows: 100% white, 25% blue and 60% red.