Payment
Here you can find an overview over the various payment methods we accept. During the order process, you can choose the payment method you desire.
PayPal

In our webshop you can also pay safely and easily via PayPal. Simply select PayPal as the payment method during the order process. Upon completion of your order, we will redirect you to PayPal, where you can finalize your payment. If you already are a PayPal user, simply log in and place your payment.
If you have not used PayPal yet, you can either make a guest payment or open a PayPal account and then pay.
PayPal payments reach us within a few minutes. Your order will be shipped immediately.
SEPA direct debit - Powered by PayPal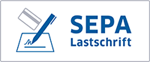 You can also pay by SEPA direct debit. This service is provided through PayPal without the need to set up a PayPal account of your own.
PayPal carries out a risk assessment after selecting SEPA direct debit, which may lead to the collection of credit reports from several credit agencies. If the risk assessment turns out negative, you can opt for another payment option. Please understand that Aquasabi has no influence PayPal's risk assessment process.
Please note, that the method of payment "SEPA direct debit, powered by PayPal" is only available for shipments within Germany.
Credit card - Powered by PayPal

As another alternative, we also offer the possibility to pay by credit card. For this purpose, we will forward you to our credit card service provider PayPal during the order process, where you can make your payment to us.
You don't need a PayPal account for payment via credit card.
Your credit card will be charged within one week after the payment has been completed. Orders which are paid by credit card will be shipped immediately.
For reasons of data protection, we do not store any credit card data in our online shop. Data relevant to the payment are transferred directly to the payment service provider via an encrypted data connection.
Klarna PAY NOW

As a quick alternative to a bank transfer you can pay via Klarna - PAY NOW (formerly "instant bank transfer"). The classic bank transfer can take up to a few days. At Klarna - PAY NOW your payment will not arrive faster, but Klarna informs us immediately after a successful transaction. You can pay as usual with the PIN and TAN of your bank account. Your order will be shipped immediately.
Bank transfer
You can of course also pay by bank transfer. Simply use your online banking account or the classic bank transfer service offered by your bank.
As soon as you have placed your order we will send you an e-mail with our bank data and the payment reference. Please make sure you enter the payment reference as we need it to be able to process your order as quickly as possible.
As soon as the money you transferred is in our account we will ship your order. Depending on the bank, this may take one or two banking days.
Amazon Pay

With Amazon Pay, you can safely and quickly shop with Aquasabi using your existing Amazon account.
For this, the payment and address information deposited by you at Amazon will be used. When ordering, you just need to click the button "Pay with Amazon" in your shopping cart, or select Amazon Pay as payment option. Then you log into your Amazon account via secure connection and select the desired payment method and shipping address. The Aquasabi Shop takes over this data and you'll just have to confirm the order process at Aquasabi.