Oliver Knott: aquatic plant quality
How to recognize good aquarium plants
In this video, Oliver Knott shares from his rich experience with aquaria, and he tells us how to recognize high-quality aquarium plants. For example, he explains what to look for when examining stems, leaves and roots to judge the condition of an aquatic plant. He also demonstrates very clearly how the amount and growth of a portion may differ from manufacturer to manufacturer, but also that there are immense seasonal differences when it comes to aquarium plant growth.
In this video, Oliver also presents different forms of aquarium plants: First we have the potted plants. These plants are cultivated in a substrate made of rock wool or sometimes coconut fibers. The substrate is placed in a small plastic pot. Aquatic plants can also be bought in the form of invitro plants. They are grown in sterile laboratory conditions from tissue culture and these plants are usually cultivated and sold in a sealed cup, in which the roots of the aquarium plant are immersed in a nutrient gel or nutrient fluid, which ensured a good nutrient supply over a long period of time. We explain the exact differences between the various forms of sale in a separate article in our Aquascaping Wiki. The pros and cons of invitro aquarium plants are explained in detail there.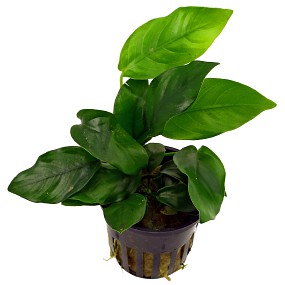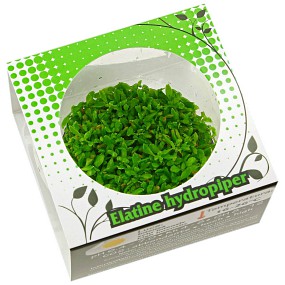 At Aquasabi's, we take great care to offer our customers good quality plants. First and foremost, we purchase the aquatic plants we offer only from renowned nurseries, such as Tropica, Dennerle or Anubias. All these manufacturers stand for high-quality plants. Our choice of suppliers enables us to offer you premium plants at any time.
Also for quality reasons, we only sell high-quality potted plants and plants from InVitro culture in our online shop. In our product range, you won't find inferior bunch plants - which are usually imported from the Far East. The only plants we offer in bunches always come from our own submerged aquatic plant cultivation racks, i. e. we cultivated them ourselves. Only in this way can we ensure the high quality our name stands for and monitor it continuously. Among these plants you will find quite a few rare plants that are usually not available in trade - only at Aquasabi's.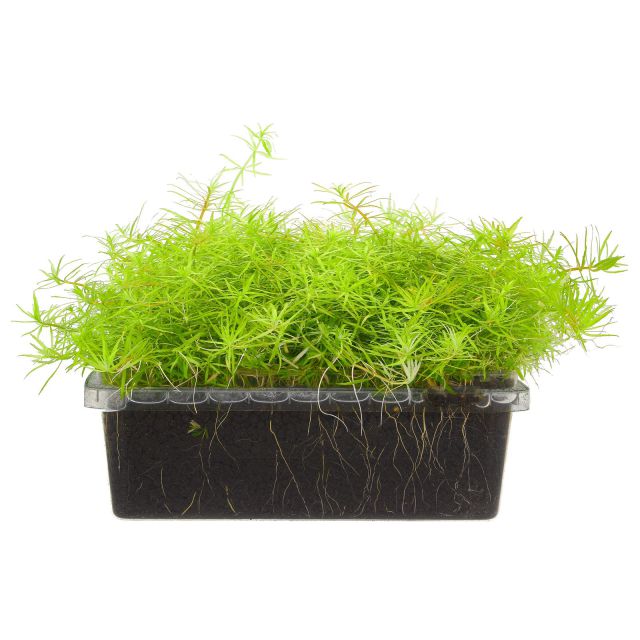 Shipping
We sort out unhealthy-looking or damaged aquatic plants before shipment. We do our best to keep the goods undamaged during transport. Therefore we pack the plants very carefully and pad the shipping carton well.
By the way: it is in fact possible to ship aquatic plants during the winter! We take the proper precautions and equip the parcel with a styrofoam box and a heat pack. If you want to know more, please read the article where we explain our shipping methods during the wintertime.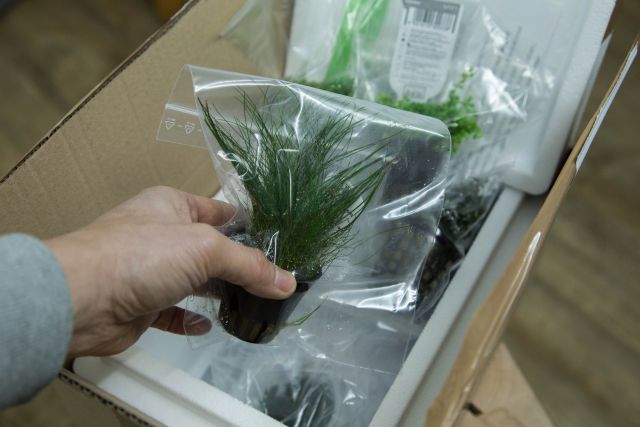 The aquarium plant did not take shipping well?
If a plant does not arrive in optimal condition: we will certainly find a solution. Send us a picture of the damaged plant before you plant it into your aquarium. The plant needs to be clearly visible in the picture, as well as the reason for your objection. You can send us the picture via email to yoohoo@aquasabi.com, together with a short description and the order number. We will gladly take care of the problem.