New aquatic plants by Aqua Design Amano
For the first time: aquarium plants from ADA
As an absolute premiere, aquatic plants by the Japanese manufacturer of aquascaping tools, Aqua Design Amano (ADA) have become available on the German market. In the following article, we'll show you the special characteristics of these plants.
In-vitro plants
ADA's in-vitro range of products is designated as "Bio Mizukusa No Mori" ("bio-aquatic-plant-forest"), and consists of sterilely cultivated aquatic plants, free from algae, parasites, germs and foreign plants. The sterile cups are available in two sizes, S and M. Where the bottoms of the cups have the same diameter, the M cup is significantly taller to allow higher-growing plants to develop properly.
Of particular interest at this point are some plant species and forms that are rarities or innovations on the European market. Here are a few examples in a short introduction.
Ludwigia inclinata var. verticillata 'Pantanal'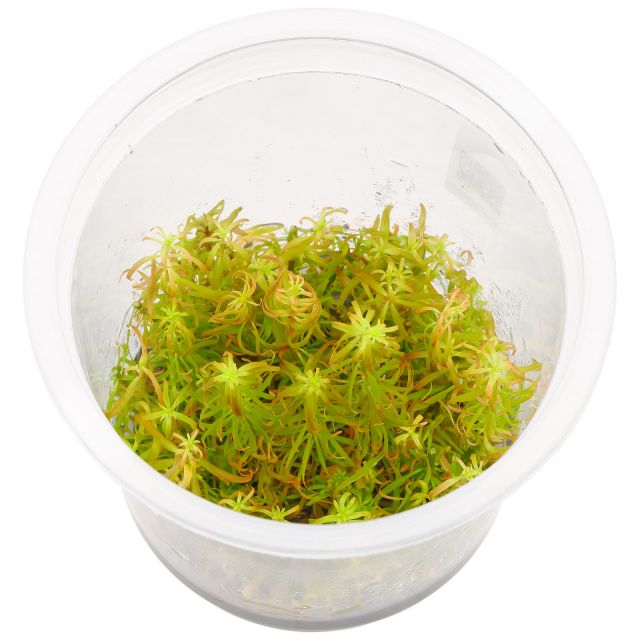 A rather sophisticated Ludwigia, which needs above all a very soft and acidic environment (water and soil), a sufficient and constant carbon dioxide addition and macro- and micro nutrient fertilization. With proper care, this aquarium plant develops red to magenta, whorled leaves. It differs from Ludwigia inclinata var. verticillata 'Cuba' not just due to its intense red but also its smaller shoot diameter. There is a very comprehensive thread in our aquatic plants forum Flowgrow (in German) about this plant.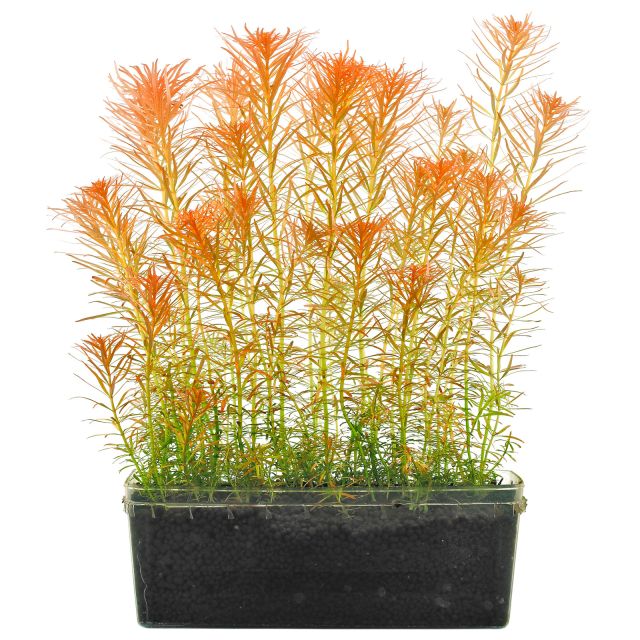 Rotala sp. 'Shimoga'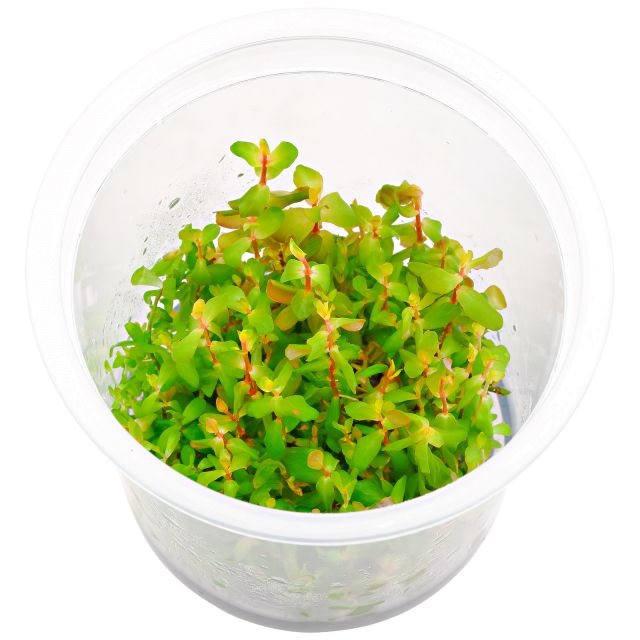 This new Rotala from India probably belongs to the superspecies Rotala rotundifolia and is unknown in Europe. Shimoga is a district in the state Karnataka.
The keeping conditions are very likely similar to Rotala rotundifolia.
Rotala sp. 'Wayanad'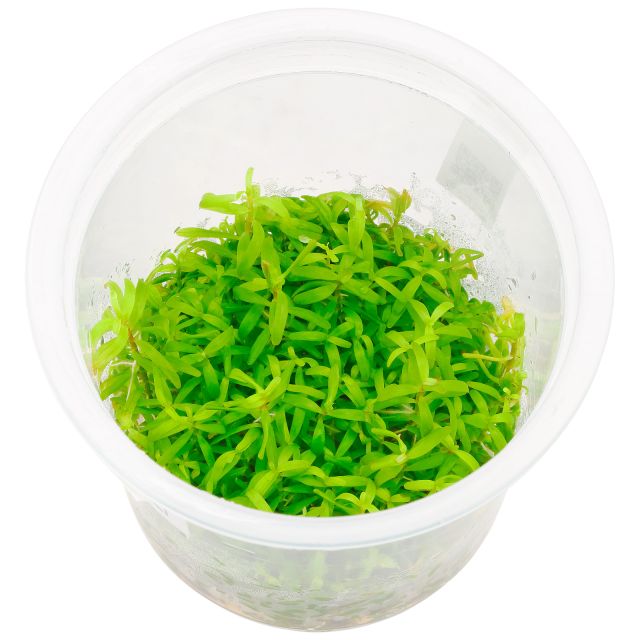 Another Rotala novelty from India. It develops graceful shoots with narrow, light to yellow-green, slightly downward curved leaves. There are two to three leaves at each stem node. When under strong lighting conditions, Rotala sp. 'Wayanad' may tend to horizontal growth. The species of this Rotala could not yet be determined. The site is believed to be located in the Wayanad district of Kerala, India.
In our experience, Rotala sp. 'Wayanad' is a fairly simple and fast-growing plant, comparable to Rotala rotundifolia. Like these, it develops best with balanced micro- and macro fertilization, carbon dioxide addition and at least moderate lighting.
Pogostemon deccanensis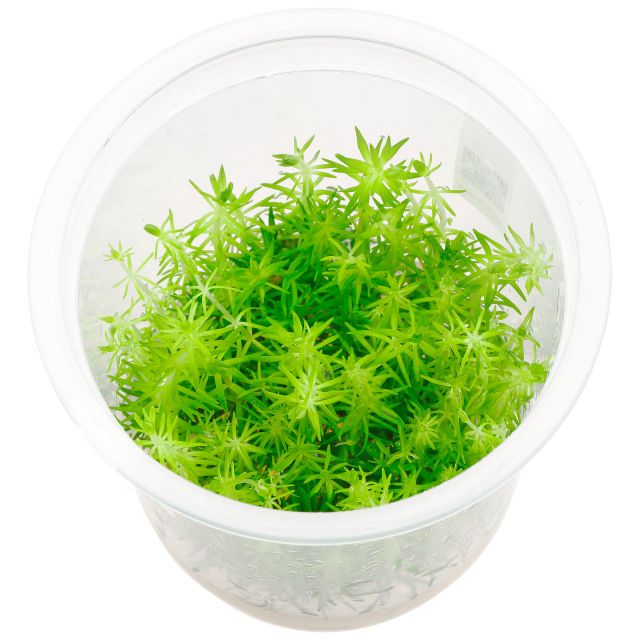 Pogostemon deccanensis comes from India as well and is is quite new to the hobby, meaning that information is scarce as far as keeping conditions are concerned. There seem, however, to be some parallels to Pogostemon erectus. Similar to this popular aquarium plant, Pogostemon deccanensis forms whorled, needle-like, light-green leaves. The growth habit of the plant is upright. It would be interesting to see to what extent this species differs from Pogostemon erectus in aquarium cultivation.
Lagenandra keralensis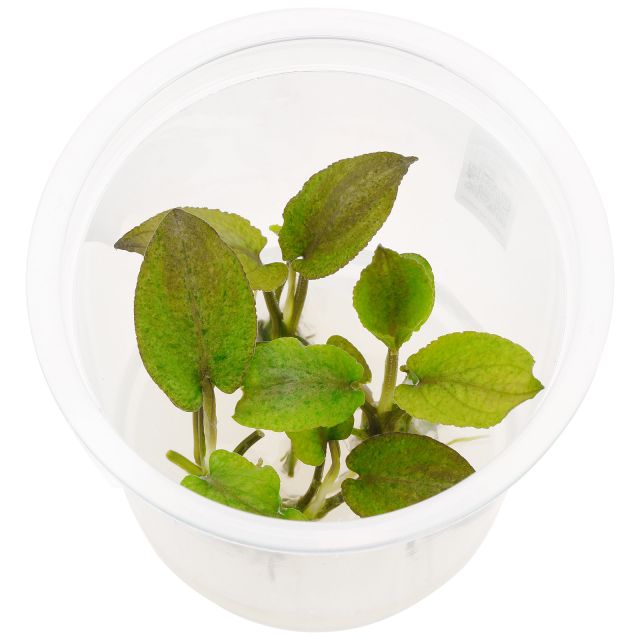 This product introduction is particularly remarkable. The name Lagenandra keralensis was already used in trade for a narrow-leaved Lagenandra meeboldii-form, but there is plenty of evidence, that the ADA in-vitro plant is a true Lagenandra keralensis. This species from the state of Kerala in southwestern India has been scientifically known since 2001, but so far no information has been available on their cultivation, let alone their aquarium suitability. As a test, we have been cultivating the plant for a few months in our submerse nursery, and our impression so far is, that it is a slow but steadily growing, not too difficult aquarium plant, comparable to the better known Lagenandra meeboldii. Apparently this plant stays smaller than the latter one - which can grow to a height of more than 30 cm - because, according to its original description, leaf stems and leaf blades are 7 at most cm long in L. keralensis. Visually, Lagenandra keralensis is reminiscent of a cryptocoryne, except that it does not form thin, subsurface offshoots but a thick, creeping rhizome. The oval, slightly heart-shaped leaves show olive to brownish tones and have a finely-curled edge.
Rotala macrandra 'Bangladesh'
The trade name implies, that this Rotala was found in Bangladesh. In our experience it is a strong-growing, easy stem plant. We suspect, though, that this plants does not belong among the Rotala macrandra, but rather Rotala rotundifolia, especially since the species R. macrandra is native to south India and not Bangladesh. In comparison to "normal" R. rotundifolia, 'Bangladesh' develops wider and bigger underwater leaves that will show beautiful reds in sufficiently strong light. Like practically all Rotala species, this plants shows its best side in stronger lighting conditions, with CO2 supply and regular micro- and macro nutrient fertilization.
Hydrocotyle cf. tripartita 'Mini'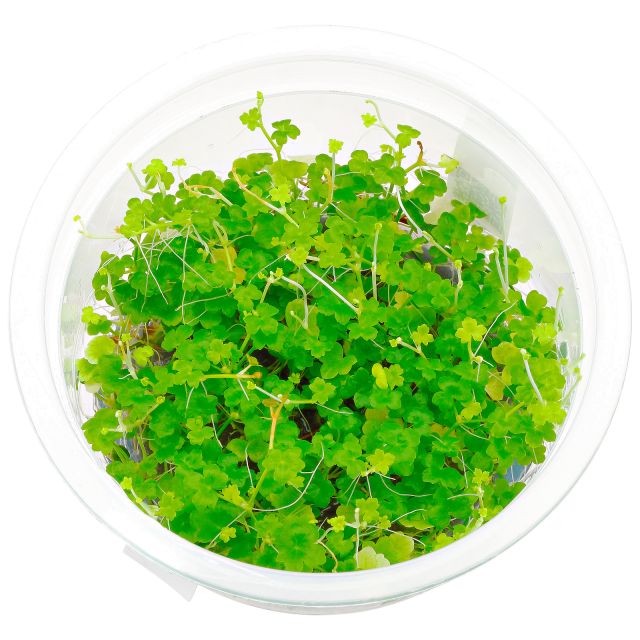 A new form of the well-knows three-part pennywort. Its leaves seem to reach only half the size of the previously known Hydrocotyle cf. tripartita. Thus, this mini-form is especially interesting for nano-aquariums and can be used as a ground cover. This plant is also well-suited to be attached to decoration, from where it grows down in a hanging manner.
Cryptocoryne sp. 'Tiger'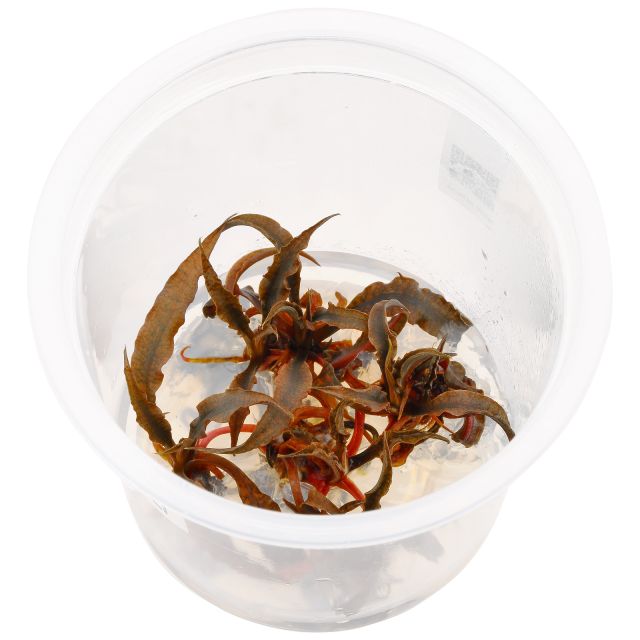 This particularly attractive, narrow-leaved water trumpet probably comes from India and is labeled as Cryptocoryne spiralis 'Tiger'. However, there is evidence that it is a form of Cryptocoryne retrospiralis , which is why we tentatively name it Cryptocoryne sp. 'Tiger'. This new, rare Cryptocoryne form can get up to 15cms tall and is very reminiscent of Cryptocoryne albida 'Brown' with its narrow, brown, dark-patterned underwater leaves. After our impression, however, it develops a more intense reddish-brown color with a clearer, accentuated tiger pattern. The demands towards light and nutrients are moderate, but a bright location and nutrient-rich substrate are recommended.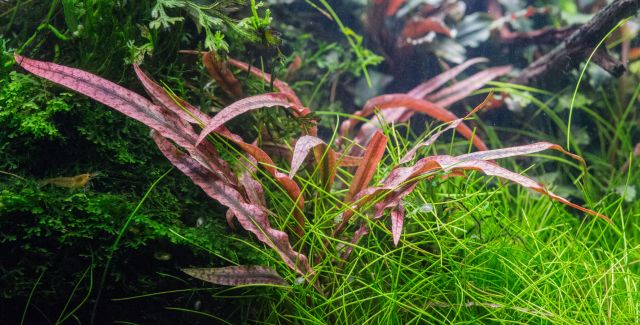 Wabi-Kusa Mats
The Wabi-Kusa Mats are part of the range of DOOA products from ADA. It is densely covered with mosses dark foam mats with a stately size of about 9 x 9 cm. You can pick from Wabi-Kusa Mats with various proven aquarium moss species, like Christmas-Moss, Weeping-Moss, Javamoos and Spiky-Moos.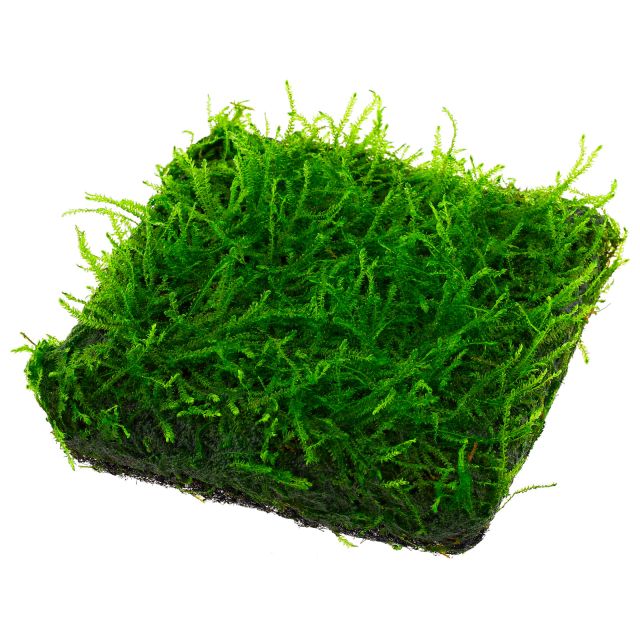 These mats have originally been designed to quickly green the back wall of a DOOA paludarium. E.G. the System Terra 30 or the Wabi-Kusa Wall 60. Here, the originally supplied mats are exchanged with the fully overgrown Wabi Kusa Mats, providing a green background in no time and without having to string everything up first. These moss species used grow not exclusively under water, but also emersed. The sprinkled Wabi-Kusa Wall of the DOOA paludarium offers top conditions for the development of mosses.
Of course, the plant mats can also be conventionally used in the aquarium, for example as ground cover, weighted down with some gravel or sand. Or cut up the pad to fit as you like, to fix the mosses on the hardscape in smaller pieces.