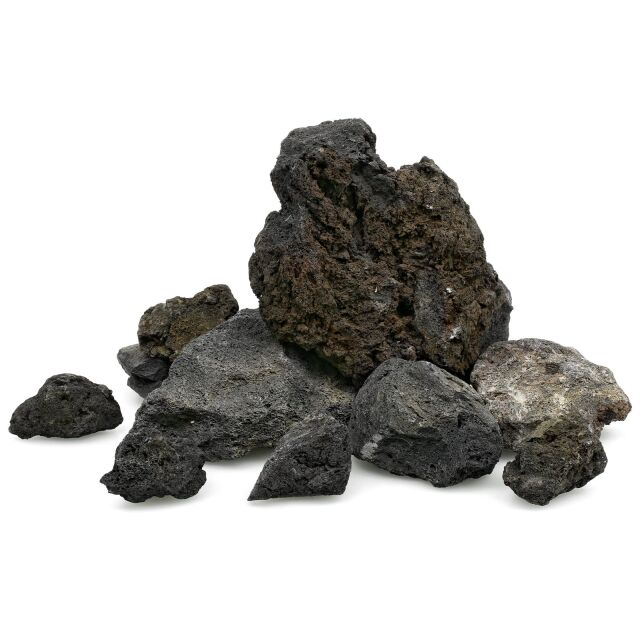 Very dark coluor

Does not harden the water

Relatively lightweight rocks

Porous structure - ideal for Ferns and Mosses

Only available in sizes from approx. 10 cm!
Free shipping on orders over € 50.- within Germany
1-3 business days - order today and we'll deliver

next week on Tuesday

at the earliest
I want to order to 
confirm
Item question
We're here for you!
Please enter your question and e-mail and we'll contact you as soon as possible. It usually takes us up to 24 hours during business days to respond.
Thank you for your question!
Thank you, we'll get in touch!
Close window
You already sent us a question.
Please wait a few minutes
Description
Black Lava is of volcanic origin, featuring a porous texture, making it very lightweight and versatile. Due to its comparably low weight, it is possible to create large structures with it.
For example it is possible to design a "Green Reef". Green Reefs are tall scapes covered in various epiphytes like ferns of the genus Microsorum or Bolbitis, Pogostemon helferi or different kinds of moss. Their roots will find a good foothold due to the porouse sctructure of the stone. Individual stones can still be moved or exchanged later on, making the layout modular.

Also a classical Iwagumi can be made from Black Lava since the very dark colors make for a good contrast to the grey color of the more commonly used kinds of stone. As an advantage Black Lava does not increase the hardness of the tank water.

Lava rock is often used in conjunction with roots. The individual stones can be covered with moss to form forest-inspired scapes.

Black Lava is also available as already assembled sets. These provide an excellent opportunity to get a perfect selection (on which we have no influence) of stones which match to different aquarium sizes (60 cm, 80 cm, 100 cm and 120 cm).

To make the choice on the amount of kilograms easier for you, we have a helpful article in our Aquascaping Wiki.
Features of the Sets
60 cm Set
Tank size
ca. 54 - 84 l
Stone combination
1x L / 3x M / 5x S
Number of stones
9 pieces
Weight
ca. 3 kg
80 cm Set
Tank size
ca. 72 - 128 l
Stone combination
1x L / 5x M / 5x S
Number of stones
11 pieces
Weight
ca. 4 kg
100 cm Set
Tank size
ca. 160 - 250 l
Stone combination
1x XL / 1x L / 3x M / 5xS
Number of stones
10 pieces
Weight
ca. 6 kg
120 cm Set
Tank size
192 - 400 l
Stone combination
1x XXL / 1x XL / 1x L / 3x M / 5x S
Number of stones
11 pieces
Weight
ca. 12 kg
Stone size in the Sets
XXL
ca. 35 cm
XL
ca. 25 cm
L
ca. 16 cm
M
ca. 12 cm
S
ca. 6 cm

How much stone do I need?




If there is no additional information provided, we will always put together a balanced collection of different stone sizes.
If you have specific ideas about your layout, just contact us via email (info@aquasabi.de) before placing your order and tell us your ideas. Please attach a sketch or photo of an existing layout to your email so we can use it as a template. We will then put together the matching stones for your project and tell you the total weight, so that you can place your order via the webshop.

Further information can also be found in our Wiki (https://www.aquasabi.com/aquascaping-wiki_aquascaping_choose-your-hardscape-by-weight)

Customer reviews

This item has been rated 4.7 out of 5 stars
27 Reviews

Please sign in if you want to write a review.

Sign in

5 Stars

(21)

4 Stars

(5)

3 Stars

(1)

2 Stars

(0)

1 Star

(0)

I was unsure how much do I need for 60l aquarium, so ordered 5kg, but it turned out that used just half of them.

Stones were packaged very carefully.

Nice looking, clean rocks, good selection of sizes and shapes, very few bad rocks with ugly cuttings or strange, white concrete-like stuff. Top notch.

Naručila 4 kg za akvarij od 60l .

Jako zadovoljna dobila lijepe komade različitih veličina što mi je super mogu kombinirati.

View all reviews