Aqua Rebell
Mikro Spezial Flowgrow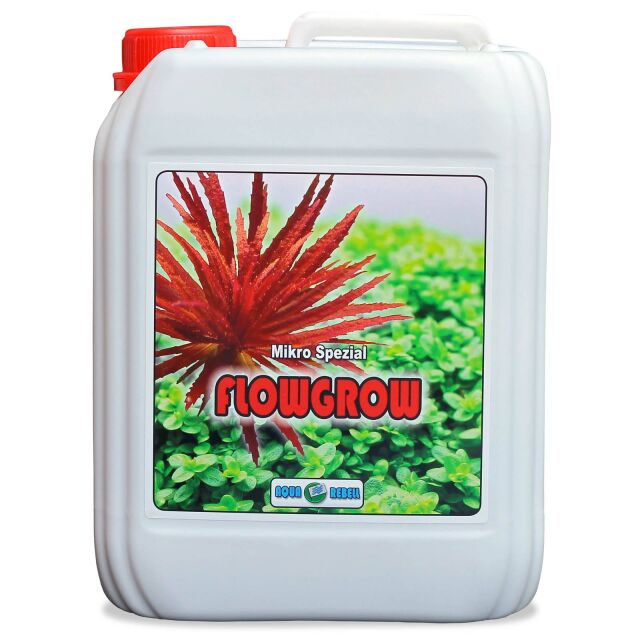 Aqua Rebell

Mikro Spezial Flowgrow
Contains all important micronutrients

Nutrients are readily available due to gentle stabilisation

Perfectly suitable as daily fertilizer

Great choice for aquascaping

Iron(II) and iron(III) compounds for your aquatic plants
Free shipping on orders over € 50,- within Germany
Express delivery possible
1-3 business days - order today and we'll deliver

next week on Tuesday

at the earliest
I want to order to 
confirm
Item question
We're here for you!
Please enter your question and e-mail and we'll contact you as soon as possible. It usually takes us up to 24 hours during business days to respond.
Thank you for your question!
Thank you, we'll get in touch!
Close window
You already sent us a question.
Please wait a few minutes
Description
In a planted tank, the micronutrients added by tap water or fish food might not be sufficient, and the plants' growth will be less than optimal. Mikro Spezial Flowgrow brings the most important micronutrients of iron, manganese, copper, zinc, boron and molybdenum into the aquarium. This fertilizer is characterised by a less strong nutrient stabilisation, which makes them especially easily available for plants.
Weekly water changes of 25 - 50 % are recommendable in order to prevent micronutrient accumulations in the water.
The basic supply of micronutrients is provided by our waterplant fertilizers Mikro Basic Eisenvolldünger or Mikro Spezial Flowgrow.
The waterplant fertilizer Mikro Spezial Flowgrow adds the micronutrients of iron, manganese, zinc, boron, copper and molybdenum to the aquarium. Especially in a social tank with high numbers of fish all the important micronutrients are supplied in a safe way; nitrates and phosphates are brought into the tank by fish food and droppings. Less well-stocked tanks will have to be supplied with macronutrients via other fertilizers.
The nutrients of Mikro Spezial Flowgrow are stabilised less strongly (by ascorbate, citrate and gluconate) and are thus practially immediately available for the plants. Especially bivalent iron, which is preferred by aquatic plants, is directly brought to them this way. The waterplants will attain lush green colours again, and reddish plants will turn an intensive red.
This less strong stabilisation makes it necessary to add Mikro Spezial Flowgrow daily. It is possible to dose it once a week, however, this results in a less-than-optimal performance.
Overview Aqua Rebell fertilizer
Features
Available in 500 ml, 1,000 ml and 5,000 ml
Aqua Rebell Mikro Spezial Flowgrow can be used in tanks without posing any problems. This fertilizer is absolutely harmless for shrimps, crayfish and snails
Usage
Dosage per 100 litres
Lots of light (>0.5 Watt per litre) + CO2
2 ml per day
Little light (<0.5 Watt per litre) + CO2
1.5 ml per day
No CO2 supply
5 ml per week
This dosage suggestion is just a guideline. The dosage may have to be raised or lowered depending on the conditions in the aquarium in order to show good results.
10 ml Mikro Spezial Flowgrow per 100 litres of tank water add the following nutrients:
K
0.06 mg/l
Mg
0.1 mg/l
Fe
0.41 mg/l
Mn
0.015 mg/l
Cu
0.0001 mg/l
B
0.008 mg/l
Zn
0.0008 mg/l
Mo
0.001 mg/l
Declaration
K-fertilizer - solution - 0,07 with micronutrients
0,07 % K2O water-soluble potassium oxide; 0,40 % Fe water-soluble iron; 0,015 % Mn water-soluble manganese; 0,008 % B water-soluble boron; 0,001 % Mo water-soluble molybdenum; 0,0008 % Zn water-soluble zinc; 0,0001 % Cu water-soluble copper
Net mass: 513 g (500 ml). Distributor: Aquasabi GmbH & Co. KG, D-38126 Braunschweig, Germany.
Minor components: 0,16 % S water-soluble sulfur; 0,16 % MgO water-soluble magnesium oxide. Conditioning agents: Methylparaben; vitamin C; citric acid. Storage: Store at room temperature. Protect from frost and heat. Store out of reach of children and pets. Use: For fertilisation of ornamental plants in aquariums only. Readyto-use fertilizer solution. See pack for detailed dosage recommendations.
Note: Offical guidance recommendations take precedence.
Please be aware that the bunch/potted variation of this plant could contain snails and other invertebrates.
Aqua Rebell
Aqua Rebell is our own aquatic plant fertiliser label. A great number of planted tank enthusiasts in general and aquascapers in particular use our products to supply their aquarium plants with nutrients.
When developing fertilisers and other aquascaping-related products, we work hand in hand with a base of aquarium enthusiasts and aquascapers, and we try to realise as many of their desires and ideas as possible. Quite often, ideas and wishes uttered in our aquatic plant lovers' and aquascapers' community www.flowgrow.de are the basis, on which we develop new products. These are then thoroughly tested by experienced aquarium keepers and aquascapers. Behind our product range, there are a lot of innovative ideas and long-term experience, and they are tested in real life. For us it is important that aquarium keepers and aquascapers are successful with our products and that they are thus enabled to make the utmost of their tanks and aquascapes.
General information
| | |
| --- | --- |
| Item no. | 100.0007.05 |
| EAN | 4250585205383 |
| Weight | 5,36 kg |
| Shipping weight | 5,70 kg |
Customers ask customers
You have questions about this product? Ask other customer or our support team about this product!
You have to be logged in to ask or answer a question.
Customer reviews
This item has been rated 4.9 out of 5 stars
91 Reviews
Please sign in if you want to write a review.
Sign in
5 Stars

(81)

4 Stars

(7)

3 Stars

(3)

2 Stars

(0)

1 Star

(0)
Aqua Rebell - Mikro Spezial - Flowgrow - 500 ml
Excellent quality liquid fertilizer. Started using this product about an year now and don't think changing. Plants looking great and full of colour.
Aqua Rebell - Mikro Spezial - Flowgrow - 500 ml
Kann ich nicht wirklich beurteilen ! Für gutes Pflanzenwachstum sind ja mehrere Bedingungen ausschlaggebend. Derzeitig keine Verbesserungen ....
Aqua Rebell - Mikro Spezial - Flowgrow - 500 ml
A good fertilizer, but i bit, in my opinion, too strong and concentrated. I had to change to a drop bottle, so i can easily adjust the dose that i want.
View all reviews