Floating plants
Plants for the water surface
Floating plants, just like the ones under water, contribute to improving the ecological balance in the aquarium. Although they are rare in aquascaping designs, they can greatly enrich classic community or biotope aquariums. Floating plants consume nutrients such as nitrate and phosphate from the water, while their photosynthesis produces oxygen in return. Thanks to their emersed leaves, they can just take the element carbon from the ambient air, therefore the use of a CO2-system is not mandatory. Insofar floating plants are rather modest, undemanding plants for an aquarium or paludarium. In the plant thicket and especially in the finely fronded underwater roots, the offspring of fish and shrimp and other microorganisms will find ideal shelter and of course spawning grounds for adult animals.
Floating plants cause a shading in the aquarium and reduce surface flow and incidence of light due to their mass. This helps aquarium inhabitants that like it a bit darker and quieter to feel comfortable in the underwater world. They are therefore predestined for use in pools with labyrinth fish, such as the popular fighting fish (Betta sp.).
Species overview of popular floating plants
Riccia fluitans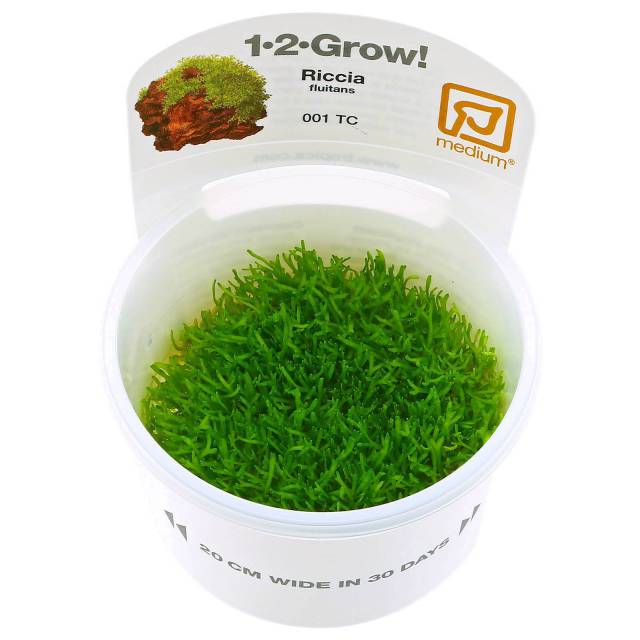 Riccia fluitans or floating crystalwort is a finely-fronded and fast-growing floating plant. Under good nutrient conditions, it can produce a lot of oxygen, which manifests itself in clearly visible vesicles on the leaves. The founder of the nature aquarium, Takashi Amano, revolutionized the handling of this plant by using it tied up on stones as groundcover. If crystalwort breaks apart, new stocks can be created even from the smallest fragments. On the one hand, this plant is very easy to multiply, but on the other hand, quite difficult to remove, if you want to have a Riccia i> -free aquarium layout. This should be kept in mind when trimming the plant. A beautiful variant with smaller leaves is the Riccia sp. "Dwarf".
Class: Riccia
DIfficulty: easy
Growth rate: fast
Temperature tolerance: 4 - 30°C
Can grow in an emerged form: ja
Frogbit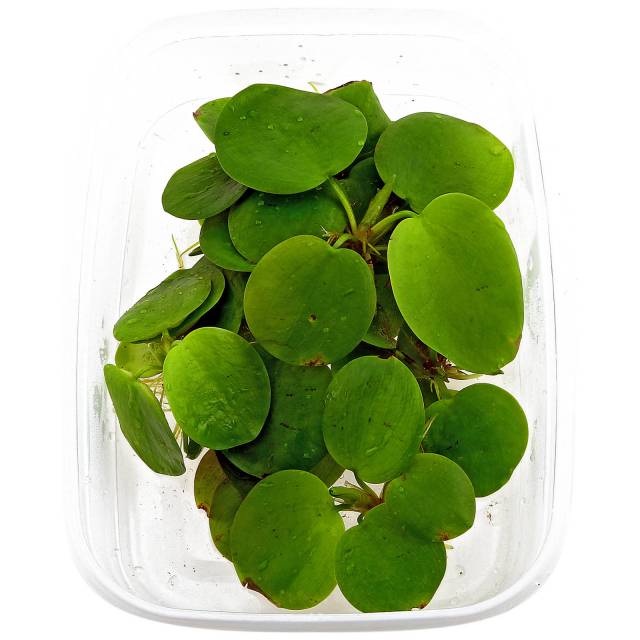 Limnobium laevigatum, the South American Frogbit, is a slightly larger floating plant. It has round leaves and long underwater roots. This creates a fairly generous underwater root system, which provides a good hiding- and spawning opportunity for animal inhabitants of the aquarium.
Class: Limnobium
DIfficulty: easy
Growth rate: very fast
Temperature tolerance: 4 - 35°C
Can grow in an emerged form: ja
Hornwort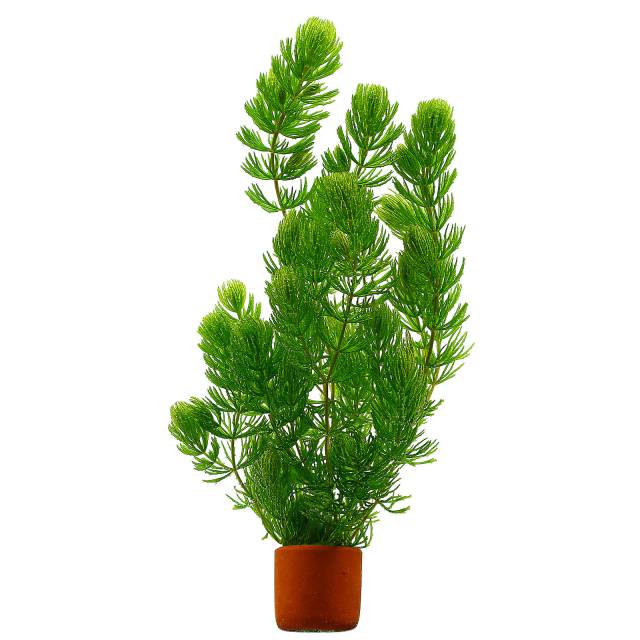 The rigid hornwort or Ceratophyllum demersum is a renowned aquatic plant, and is used in aquariums and ponds. It is quite fast-growing, but nevertheless undemanding and is therefore often used to compete against algae, for example in the run-in phase of an aquarium. Their appearance is more like that of a stem plant. It has elongated, leafy shoots, but no roots. You can simply let them drift on the surface or, of course stick them into the substrate or wedge them into the decoration.
Class: Ceratophyllum
Difficulty: very easy
Growth rate: very fast
Temperature tolerance: 4 - 30°C
Can grow in an emerged form: no
Salvinia auriculata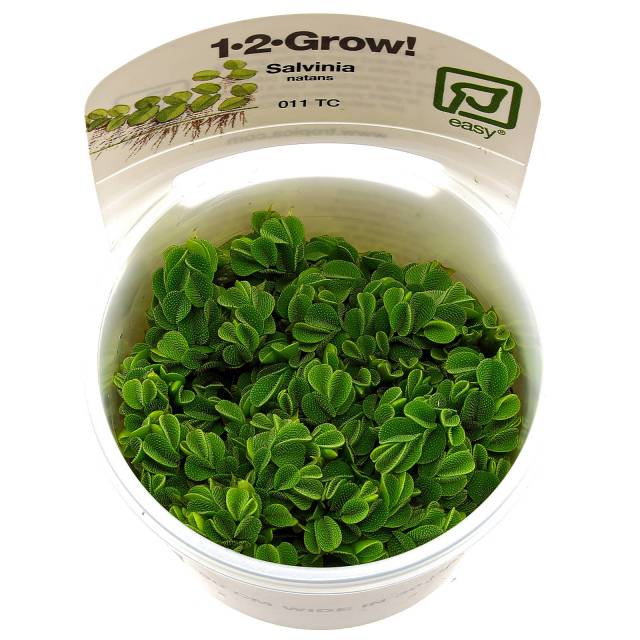 The eared watermoss is often synonymously but falsely called Salvinia natans. A very attractive, quite fast-growing swimming plant. The leaves are slightly hairy and always arranged in pairs. Underwater, these plants form underwater leaves that look like roots. Their thickets offer young animals in the aquarium an ideal hiding place.
Class: Salvinia
Difficulty: easy
Growth rate: very fast
Temperature tolerance: unknown
Can grow in an emerged form: unknown
Fairy moss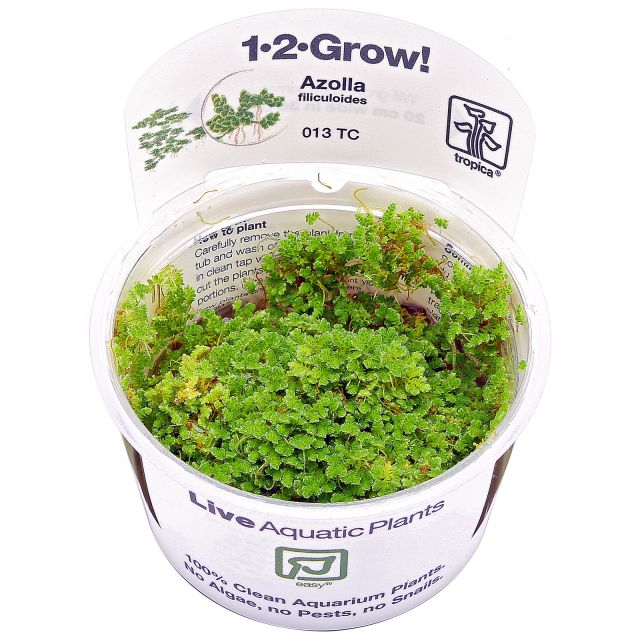 Azolla filiculoides is a very decorative water fern with delicate leaves. This plant is native to the Americas and is very suitable for open plant aquariums. The fairy moss can be used well even in Paludaria and Wabi Kusa, since it can also grow on moist surfaces.
Class: Azolla
DIfficulty: easy
Growth rate: fast
Temperature tolerance: 5 - 35°C
Can grow in an emerged form: yes
Care
Even though most floating plants are pretty undemanding, there still are some things to be kept in mind. Most commercially available species are quite fast-growing and consume accordingly many nutrients from the water of the aquarium. Especially in fish breeding, these plants are used precisely for this reason, as their growth eats up quite a lot of phosphate and nitrate. If floating plants lack nutrients, they show this through corresponding deficiency symptoms, such as yellowing leaves or stagnant growth. For an always vital appearance and healthy growth an all-round supply of nutrients from the macro area with e.g. (NPK) is just as necessary as the addition of Iron and other trace elements. This can be done by a regular addition of compound fertilizer.
A regular thinning of the floating plant cover is especially necessary if the shading of the underlying submerged aquatic plants is too strong. A portion of the floating plants is removed instead of cutting anything. If necessary, roots that've gotten too long can be clipped using a pair of scissors.