AQUARIO
Neo Soil Compact Plant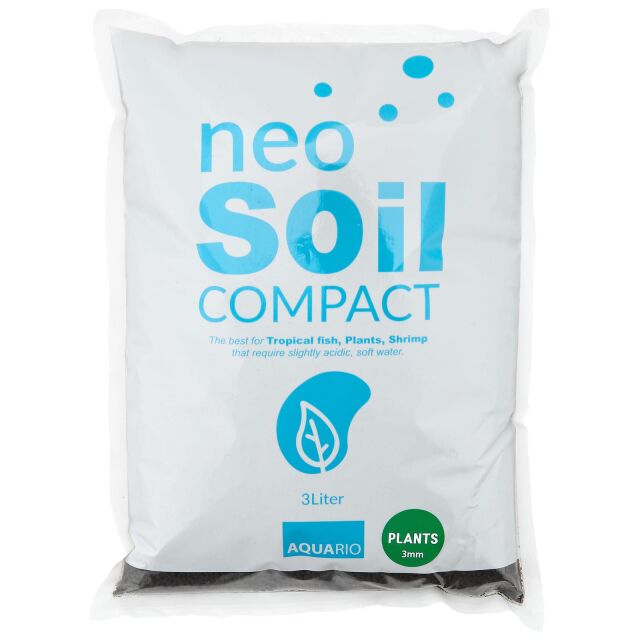 AQUARIO

Neo Soil Compact Plant
Substrate for aquariums

Includes important helpful bacteria

Slightly reduces the pH

Adsorbing ability on harmful soilings

Perfect for tropical fish, plants and invertebrates
We'll inform you by e-mail when this item is back in stock again.
Do you want us to send you an e-mail when this item is available again?
As a registered customer you can get notified via e-mail when that product is back in stock.

Sign in

or

Register
Express delivery possible
I want to order to 
confirm
Item question
We're here for you!
Please enter your question and e-mail and we'll contact you as soon as possible. It usually takes us up to 24 hours during business days to respond.
Thank you for your question!
Thank you, we'll get in touch!
Close window
You already sent us a question.
Please wait a few minutes
Description
Neo Soil Compact Plants by AQUARIO is an innovative substrate especially for plant aquariums which focusses on optimising the starting (cycling) phase of an aquarium without the need of external fertilisers. This effect is reached by an immediate activation of the soil at the very bottom, which helps root formation and prevents algae growth from the beginning.

Cycling-phase of an aquarium with Neo Soil Compact Plant
It consists of nutrient-rich soils of volcanic origin and creates the perfect growth conditions for tropical aquarium plants. Furthermore, it is completely harmless to fish and shrimps.
Wasserqualität mit Neo Soil Compact Plant

In addition to the ability of lowering the pH-value as well as the water hardness, which many soils provide and is surely not neglected with this soil, Neo Soil does have more features that make it unique. Other than most soils, the Neo Soil includes bacteria that are activated as soon as the soil makes contact with water. These beneficial bacteria in the soil play an important role in biological degradation processes in the aquarium. They convert undesirable substances such as nitrite and additionally limit the growth of harmful organisms abundant in the water. The soil already contains sufficient nutrients to allow the bacteria's qick and stable establishment in the tank. Since the bacteria also provide the plants with nutrients (especially NO3) that are present in the soil, growth is accelerated and facilitated in the critical starting phase. This leaves almost no room for unwanted algae to grow.
| Day | NH3/NH4 [mg/l] | NO2 [mg/l] | NO3 [mg/l] |
| --- | --- | --- | --- |
| Original water | 0 | 0 | 12,5 |
| After 5 days | 0,3 | 3 | 100 |
| After 11 days | 0 | 0 | 50 |
| After 18 days | 0 | 0 | 25 |
| After 23 days | 0 | 0 | 12,5 |
The soil has a special structural composition of the soil particles which combines two layers of different natural soil types - brown soil inside and black soil outside. Therefore, it has a lower weight and its very own filtering effect. It adsorbs soilings and, thus, keeps the water clean.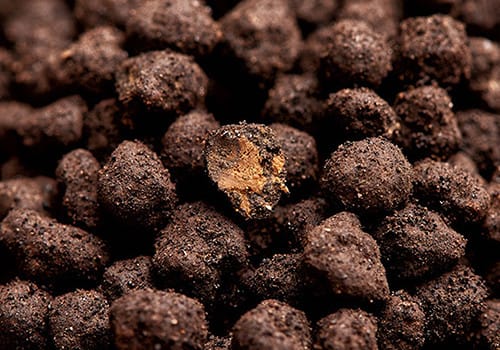 Additionally, microscopically small pores in the beads cause an increase in surface area and thus the habitat for additional important bacteria.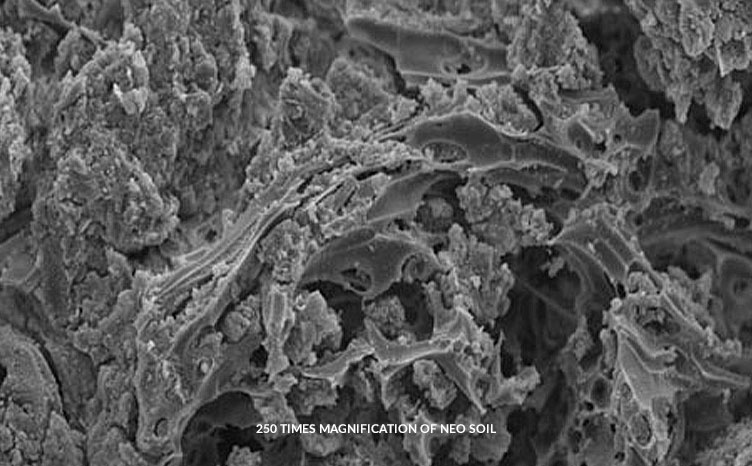 250 x magnification of soil beat
Through these very special filtration features combined with the immediate activation of bacteria and promt provision of nutrients, an aquarium needs significantly less external fertiliser when started with AQUARIO Neo Soil Compact Plant. Tests have shown these results. The following pictures show a comparison of a planted aquarium with Neo Soil Compact Plant between day 1 and day 57 without any added fertiliser.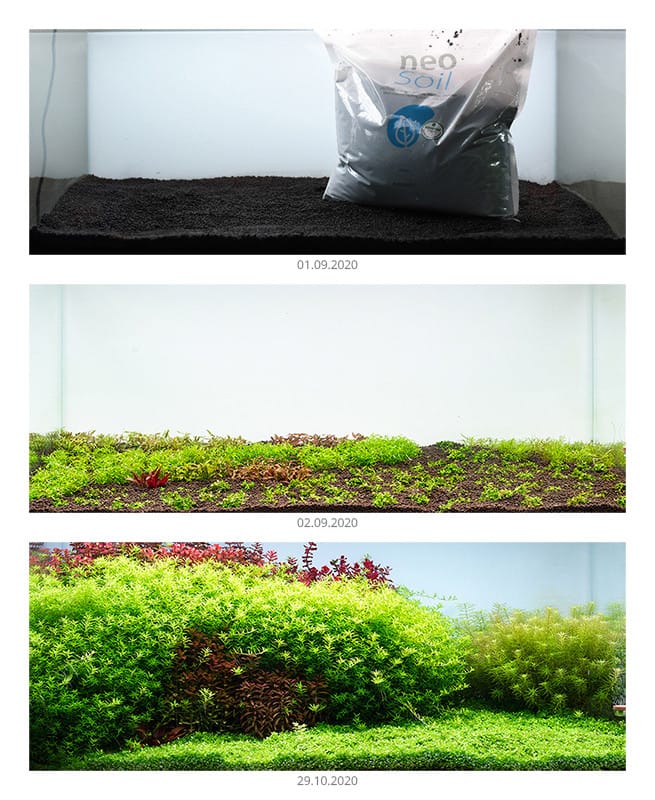 All these incredible characteristics make AQUARIO Neo Soil Compact Plant the ideal Soil for beginners in the hobby and for the creation of tanks with very demanding carpeting plants.
Features
Substrate with a grain size of 3 mm
Particularly suitable for plant aquariums and very demanding carpeting plants
Nutrient-rich soils of volcanic origin
Enriched with beneficial bacteria
Creates ideal conditions for tropical plants, fish and shrimps
For lush plant growth
Slightly reduces the pH-value
Adsorbing effect on soilings for crystal clear water
For nano tanks, there is the very fine powder variation
Application
8 litres of Neo Soil are sufficient for a 50 litre aquarium.
Apply on the ground of the aquarium without rinsing beforehand. The soil cannot be used in combination with an under-gravel filter.
The Neo Soil can be modelled best with a gravel spatula as desired.
To avoid turbidity when filling the aquarium, the aquarium should be filled with water very carefully. It is recommended to cover the bottom with kitchen roll paper beforehand. Planting in the tank is much easier if the soil is sufficiently moistened. After planting, the aquarium can be carefully filled to the desired water level. Any turbidity that may occur is quickly removed as soon as the filter is switched on.
Notes
When AQUARIO Neo Soil Compact is combined with products that increase pH/GH, the following consequences should be considered: the pH/GH- reducing effect of the soil counteracts that of the pH/GH- increasing products. This not only releases ammonium (NH4), but also provokes a nutrient imbalance that can result in an algae plague.
Animal stocking should only be added to the aquarium after a certain period of acclimatisation.
Neo Soil is a natural product from natural volcanic ash. Therefore, light impurities such as woods cannot be excluded.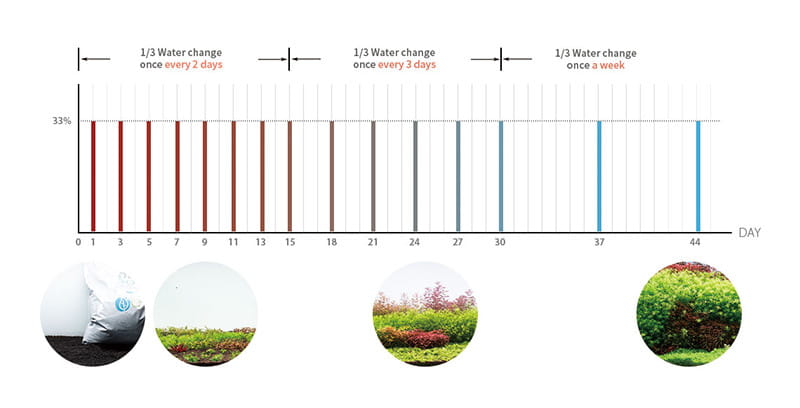 After the setup, 30% of the water should be changed every 2 days, later a weekly water change of 30% is sufficient.
If Neo Soil Compact is used with other brands of soils, the water should be changed more frequently to avoid undesired algae growth.
Keep out of the reach of children.
Please be aware that the bunch/potted variation of this plant could contain snails and other invertebrates.
AQUARIO
The manufacturer AQUARIO specialises in high-quality acrylic CO2 diffusers, very efficient bio- CO2 systems and other useful accessories for aquaristics. The Korean brand, which has been in existence since 2010, follows the guiding principle of offering every aquarist the opportunity to create a near-natural aquascape with the help of its product range. Therefore, AQUARIO offers very elegant and discreet aquarium accessories that do not disturb the layout of an aquarium. Furthermore, they are constantly working on optimising their products as well as expanding the product range with new innovations. Since 2019, the product range is available all over the world.
General information
Please choose a variant to see more information.
| | |
| --- | --- |
| Item no. | |
| EAN | |
| Weight | |
| Shipping weight | |
Customers ask customers
You have questions about this product? Ask other customer or our support team about this product!
You have to be logged in to ask or answer a question.
Customer reviews
This item has been rated 5 out of 5 stars
3 Reviews
Please sign in if you want to write a review.
Sign in
5 Stars

(3)

4 Stars

(0)

3 Stars

(0)

2 Stars

(0)

1 Star

(0)
Mohammad A.
It is good for levels of aquascapers
AQUARIO - Neo Soil Compact - Plant 8 l
It is one of the best 3 soils available now in my opinion , as it releases its nutrients at a slow pace to avoid melting of plants as you might in some other brands as it has... (read more)
Kasper N.
One of the best soils out there
AQUARIO - Neo Soil Compact - Plant 3 l
I've used this soil for a few years now and in 4 different aquariums, and the results are always excellent. (read more)
AQUARIO - Neo Soil Compact - Plant 3 l
Very good soil, Ive been using it since a fews years now and its amazing. It might be as good as Tropica I dont know...