Interview with Aymeric Bernard
Introducing a French aquascaper
With Aymeric Bernard we proudly present an ambitious aquascaper from France. Aymeric is very passionate about the aquatic hobby. He runs a YouTube channel focussing on aquascaping, participates in international contests and has even launched his own online competition, the Web Aquascaping Contest, which is becoming increasingly popular.
Aram Schneider (AS) was able to win Aymeric Bernard (AB) for an interview in our Aquascaping Wiki. Read the questions and answers in the following interview.
The interview
AS: "What are your influences, where do you get your inspiration and ideas from? Which artists have influenced you?"
AB: "My inspiration often comes from internet photos or walks that I have taken, I am also inspired by aquatic landscapes that may have been done in the past. Following many trips to Germany and Holland I am also inspired by a lot of achievements that I have seen in real life during competitions. It's really about mixing all the ideas and creating your own way."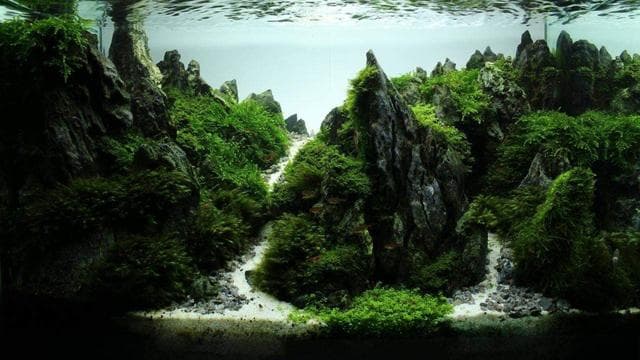 AS: "You have participated in many aquascaping contests and have now decided to organize your own competition. Can you tell us a bit more?"
AB: "Indeed, it's been a few years that I participated in a lot of competitions, whether live or photo contests, and in my opinion, the biggest problem is that there are not many live competitions in France. So when I was working in a pet store I organized live competitions several times. After I stopped working in the pet store I realized that there is a large aquascaping community on Facebook, so I created the WAC (Web Aquascaping Contest). It's a contest that brings together several styles so that the greatest number of people can participate. It's a photo contest open to all European scapers, and participation is very easy. You need only very little information to participate, unlike other contests. If you are interested, check out our Facebook page."
AS: "What is your fertilizer concept for planted tanks?"
AB: "I like to keep it simple and fertilize with CO2 and from time to time with a Tropica liquid fertilizer, NPK from JBL but also Easy Carbo and Profito. Everything depends on the planting and the deficiencies the plants may show."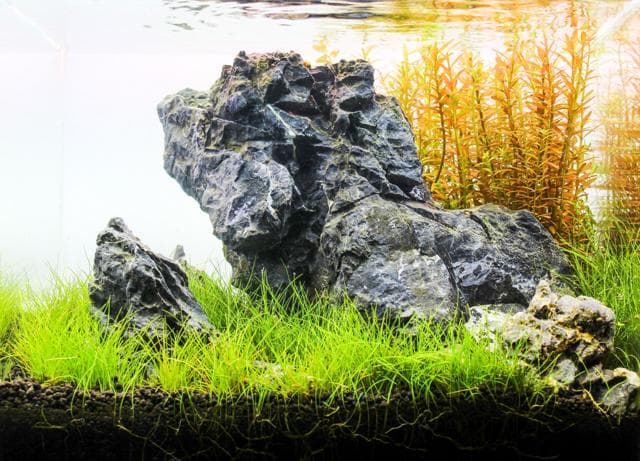 AS: "What is your favorite aquascaping material, e.g. which stone varieties and aquatic plants?"
AB: "I really like mini-landscape, aka Seiryu Stone. I work a lot with this rock. When it comes to plants, I like epiphytic plants like Bucephalandra and Bolbitis, or mosses like Riccardia and Taxiphyllum."
AS: "When did you start with the hobby?"
AB: "I started my first aquarium at the age of 10 years, and I have been aquascaping for 6 years now."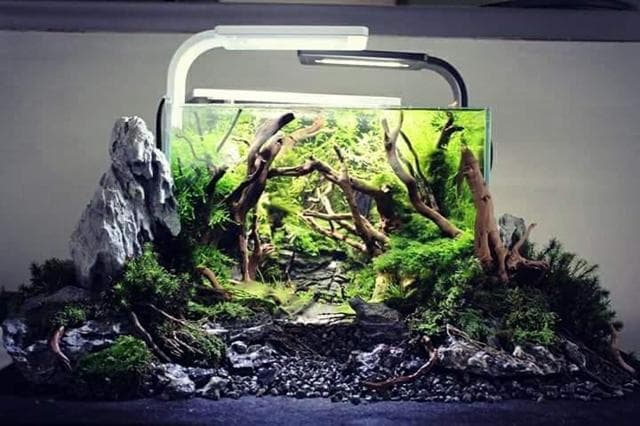 AS: "What are your biggest successes in aquascaping contests?"
AB: "I do not really participate for the ranking, but it is of course always a pleasure to be awarded a good place. I got a few good rankings in French photo competitions, and I won the French aquarium championship in 2015, a competition that kindled my desire to continue to participate in contests. A few years later I made 3rd place in the live European Nano Aquascaping Contest, and it is my greatest pride knowing that I was the best French person in this competition and the only to have made 3rd place. In other international or European photo competitions I made the top 500 or top 50. There are so many participants that in my eyes this is already a very good ranking."
AS: "I have met you several times during the ENAC aquascaping contest in Dortmund, Germany. You have my full respect for driving hundreds of kilometres all the way from France to participate in that contest. The first time, your tank got damaged during transport. But I can remember that you solved this problem. Can you tell us more about this accident?"
AB: "Yes indeed, at that time ENAC was held in Hamburg, and I lived in Quimper at the very end of Brittany in the west of France. As I did not have a driving license back then, I had to take the bus and then the train to get to Paris, where I met with some friends who also participated in the competition to carpool. I had chosen to do a mountain scape so I had about 9 kg of rocks in a 30 liter tank.
I had wedged the rocks in, but that was not enough, the back glass had cracked. That probably happened already on the bus at the start of my trip, and the closer we got to Hamburg the more I saw my box filling up with water, and I said to myself: This isn't good for my participation.
When I arrived at Hamburg on Friday evening, I discovered the full extent of the disaster: All my back window had been cracked in an arc-like circle so I could not fill my tank. I then took a broken glass cover, and I asked the organizer for silicone, then I glued the glass on. I waited a little, but it was less than 24 hours when I filled my tank, re-arranged the plants a little, and then I let the night pass.
On Saturday morning, when we arrived at the show, the judges were taking note of our aquascapes, and my tank was still filled with water. However, there were small leaks on the side, but nothing bad happened during the weekend. Come the moment when the judges came to rate my tank, they made their judgment and after they were done, I went to see one of them to explain my adventure. He had not even noticed that the glass was broken, since the form of the broken cover I used for the repair mirrored the mountain chain, and he believed it was done on purpose - which wasn't the case at all! I still made 9th out of 30 participants, even with a broken aquarium hahahah: D"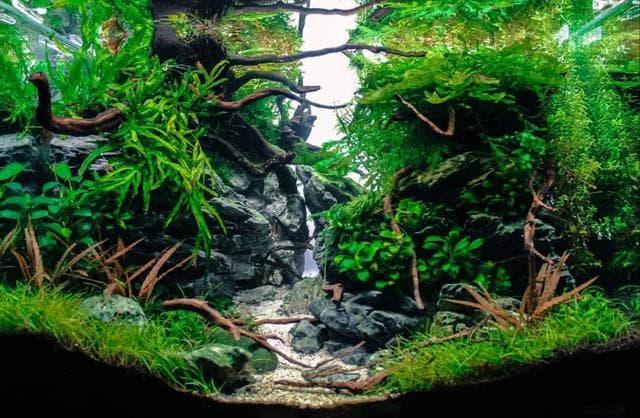 AS: "How popular is aquascaping in France?"
AB: "In France, aquascaping has been around for a long time, but it only made real progress when Gregoire Wolinski was the first Frenchman and European to win the IAPLC in 2014. This was so great. Afterwards, we were around 20 people from France who participated each year in different competitions. The hobby continues to evolve each year, but it is not as developed as in Germany, Spain or the Netherlands, for example. I really want to make aquascaping more well-known in France, so I hold demonstrations or live competitions, but I'm also active on the internet. I have a YouTube channel and an instagram account dedicated to the hobby, and also a Facebook page ( Aymeriscape Aquascaping ). There I share tips and advice in my videos and links. My aquascaping channel videos follow the influencer style, and I'm proud to say that I was the first French Youtuber to do it that way. Other people now are trying to do the same thing but the information is often at the same level. Another French professional aquascaper (aquarilis) also has a YouTube channel, but he focusses more on showing step-by-step tutorials than on podcast videos like I do, so we complete each other in the information, and we hope to further the spread of the aquascaping hobby in France."
AS: "If you had to choose between a beautiful stone or a beautiful aquatic plant, what would you take?"
AB: "It all depends on the scenery you want to make. If you can't find the perfect stone or piece of driftwood, you have to create it by assembling several stones or roots in order to have the perfect piece. Regarding plants, I really like mosses (Riccardia sp.) and epiphytes (Anubias, Bucephalandra, Bolbitis)."
AS: "Thanks for the interview!"
The YouTube channel of Aymeric
Copyright for all photos in the article: Aymeric Bernard