Qanvee
Rotatable Algae Scraper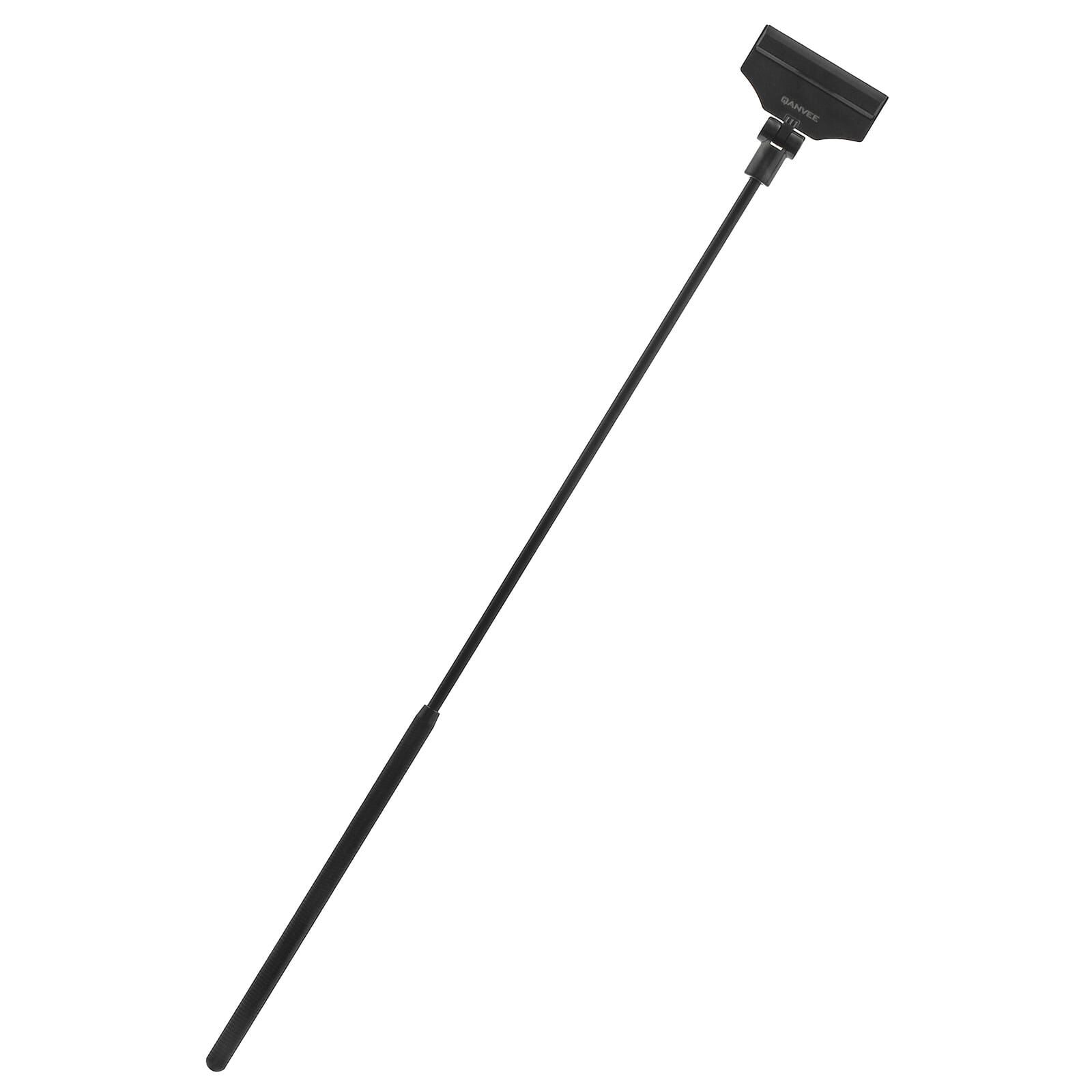 Qanvee

Rotatable Algae Scraper
Stylish Scraper

Interchangeable blades

In two lengths
Free shipping on orders over € 50.- within Germany
Express delivery possible
1-3 business days - order within the next

7 hours and 17 minutes

and we'll deliver

tomorrow

at the earliest
I want to order to
confirm
Item question
We're here for you!
Please enter your question and e-mail and we'll contact you as soon as possible. It usually takes us up to 24 hours during business days to respond.
Thank you for your question!
Thank you, we'll get in touch!
Close window
You already sent us a question.
Please wait a few minutes
Description
The Rotatable Algae Scraper from Qanvee is the perfect tool for a clear view into the aquarium. The black scraper is made of an aluminium-magnesium alloy and is therefore corrosion-resistable. The holder can be assembled easily using the threads provided. After use, the Scraper can be taken apart again easily for storage. In order to fit perfectly to the pane, the 67 mm wide head is equipped with a flexible joint. The joint can be fixed quickly and effortlessly. Blades can be replaced easily with the help of the hex key provided. Each package contains 10 of the blades, which can be used on both sides. The Qanvee Rotatable Algae Scraper is available in two different lengths, 550 mm and 660 mm.
Feartures
Stylish black scraper for clean aquarium glass
Replaceable blades for long use
Head with adjustable angle
Available in two different lengths
Dimensions
Qanvee Rotatable Algae Scraper - X-1
Lenght
550 mm
Width head
67 mm
Holder diameter
10 mm
Qanvee Rotatable Algae Scraper - X-3
Lenght
660 mm
Width head
67 mm
Holder diameter
10 mm
Qanvee

Fatal error: Uncaught TypeError: str_replace(): Argument #3 ($subject) must be of type array|string, null given in /var/www/vhosts/aquasabi.com/httpdocs/templates/Aquasabi20/Plugins.php:112 Stack trace: #0 /var/www/vhosts/aquasabi.com/httpdocs/templates/Aquasabi20/Plugins.php(112): str_replace() #1 /var/www/vhosts/aquasabi.com/httpdocs/templates_c/Aquasabi20/52d889902bb6f9635db5eece5c7acd8b3bc2e22e_0.file.tabs.tpl.php(519): Template\Aquasabi20\Plugins->aquasabiPrepareCo2() #2 /var/www/vhosts/aquasabi.com/httpdocs/includes/vendor/smarty/smarty/libs/sysplugins/smarty_internal_runtime_inheritance.php(248): Block_555007933647dcaa0bf0849_56796944->callBlock() #3 /var/www/vhosts/aquasabi.com/httpdocs/includes/vendor/smarty/smarty/libs/sysplugins/smarty_internal_runtime_inheritance.php(184): Smarty_Internal_Runtime_Inheritance->callBlock() #4 /var/www/vhosts/aquasabi.com/httpdocs/includes/vendor/smarty/smarty/libs/sysplugins/smarty_internal_runtime_inheritance.php(186): Smarty_Internal_Runtime_Inheritance->process() #5 /var/www/vhosts/aquasabi.com/httpdocs/includes/vendor/smarty/smarty/libs/sysplugins/smarty_internal_runtime_inheritance.php(156): Smarty_Internal_Runtime_Inheritance->process() #6 /var/www/vhosts/aquasabi.com/httpdocs/templates_c/Aquasabi20/b4881de996772d381564cad53ebdcd092e4e59aa_0.file.tabs.tpl.php(1632): Smarty_Internal_Runtime_Inheritance->instanceBlock() #7 /var/www/vhosts/aquasabi.com/httpdocs/includes/vendor/smarty/smarty/libs/sysplugins/smarty_internal_runtime_inheritance.php(248): Block_1598078435647dcaa0c26244_05124288->callBlock() #8 /var/www/vhosts/aquasabi.com/httpdocs/includes/vendor/smarty/smarty/libs/sysplugins/smarty_internal_runtime_inheritance.php(184): Smarty_Internal_Runtime_Inheritance->callBlock() #9 /var/www/vhosts/aquasabi.com/httpdocs/includes/vendor/smarty/smarty/libs/sysplugins/smarty_internal_runtime_inheritance.php(186): Smarty_Internal_Runtime_Inheritance->process() #10 /var/www/vhosts/aquasabi.com/httpdocs/includes/vendor/smarty/smarty/libs/sysplugins/smarty_internal_runtime_inheritance.php(156): Smarty_Internal_Runtime_Inheritance->process() #11 /var/www/vhosts/aquasabi.com/httpdocs/templates_c/Aquasabi20/b4881de996772d381564cad53ebdcd092e4e59aa_0.file.tabs.tpl.php(33): Smarty_Internal_Runtime_Inheritance->instanceBlock() #12 /var/www/vhosts/aquasabi.com/httpdocs/includes/vendor/smarty/smarty/libs/sysplugins/smarty_template_resource_base.php(123): content_647dcaa0c6eee2_62284815() #13 /var/www/vhosts/aquasabi.com/httpdocs/includes/vendor/smarty/smarty/libs/sysplugins/smarty_template_compiled.php(114): Smarty_Template_Resource_Base->getRenderedTemplateCode() #14 /var/www/vhosts/aquasabi.com/httpdocs/includes/vendor/smarty/smarty/libs/sysplugins/smarty_internal_template.php(216): Smarty_Template_Compiled->render() #15 /var/www/vhosts/aquasabi.com/httpdocs/includes/src/Smarty/JTLSmartyTemplateClass.php(54): Smarty_Internal_Template->render() #16 /var/www/vhosts/aquasabi.com/httpdocs/includes/vendor/smarty/smarty/libs/sysplugins/smarty_internal_template.php(385): JTL\Smarty\JTLSmartyTemplateClass->render() #17 /var/www/vhosts/aquasabi.com/httpdocs/includes/src/Smarty/JTLSmartyTemplateClass.php(32): Smarty_Internal_Template->_subTemplateRender() #18 /var/www/vhosts/aquasabi.com/httpdocs/templates_c/Aquasabi20/81eeceadb25699f702e965f91b5b5fb2c1f6dbbf_0.extends.tabs.tpl.php(24): JTL\Smarty\JTLSmartyTemplateClass->_subTemplateRender() #19 /var/www/vhosts/aquasabi.com/httpdocs/includes/vendor/smarty/smarty/libs/sysplugins/smarty_template_resource_base.php(123): content_647dcaa0bef006_49464034() #20 /var/www/vhosts/aquasabi.com/httpdocs/includes/vendor/smarty/smarty/libs/sysplugins/smarty_template_compiled.php(114): Smarty_Template_Resource_Base->getRenderedTemplateCode() #21 /var/www/vhosts/aquasabi.com/httpdocs/includes/vendor/smarty/smarty/libs/sysplugins/smarty_internal_template.php(216): Smarty_Template_Compiled->render() #22 /var/www/vhosts/aquasabi.com/httpdocs/includes/src/Smarty/JTLSmartyTemplateClass.php(54): Smarty_Internal_Template->render() #23 /var/www/vhosts/aquasabi.com/httpdocs/includes/vendor/smarty/smarty/libs/sysplugins/smarty_internal_template.php(385): JTL\Smarty\JTLSmartyTemplateClass->render() #24 /var/www/vhosts/aquasabi.com/httpdocs/includes/src/Smarty/JTLSmartyTemplateClass.php(32): Smarty_Internal_Template->_subTemplateRender() #25 /var/www/vhosts/aquasabi.com/httpdocs/templates_c/Aquasabi20/b475a5ab4e6040316713193f0890ced51f7d1a16_0.file.details.tpl.php(795): JTL\Smarty\JTLSmartyTemplateClass->_subTemplateRender() #26 /var/www/vhosts/aquasabi.com/httpdocs/includes/vendor/smarty/smarty/libs/sysplugins/smarty_internal_runtime_inheritance.php(248): Block_116397006647dcaa0a40913_92923519->callBlock() #27 /var/www/vhosts/aquasabi.com/httpdocs/includes/vendor/smarty/smarty/libs/sysplugins/smarty_internal_runtime_inheritance.php(184): Smarty_Internal_Runtime_Inheritance->callBlock() #28 /var/www/vhosts/aquasabi.com/httpdocs/includes/vendor/smarty/smarty/libs/sysplugins/smarty_internal_runtime_inheritance.php(156): Smarty_Internal_Runtime_Inheritance->process() #29 /var/www/vhosts/aquasabi.com/httpdocs/templates_c/Aquasabi20/b475a5ab4e6040316713193f0890ced51f7d1a16_0.file.details.tpl.php(836): Smarty_Internal_Runtime_Inheritance->instanceBlock() #30 /var/www/vhosts/aquasabi.com/httpdocs/includes/vendor/smarty/smarty/libs/sysplugins/smarty_internal_runtime_inheritance.php(248): Block_1982195114647dcaa0a406e0_06672474->callBlock() #31 /var/www/vhosts/aquasabi.com/httpdocs/includes/vendor/smarty/smarty/libs/sysplugins/smarty_internal_runtime_inheritance.php(184): Smarty_Internal_Runtime_Inheritance->callBlock() #32 /var/www/vhosts/aquasabi.com/httpdocs/includes/vendor/smarty/smarty/libs/sysplugins/smarty_internal_runtime_inheritance.php(186): Smarty_Internal_Runtime_Inheritance->process() #33 /var/www/vhosts/aquasabi.com/httpdocs/includes/vendor/smarty/smarty/libs/sysplugins/smarty_internal_runtime_inheritance.php(156): Smarty_Internal_Runtime_Inheritance->process() #34 /var/www/vhosts/aquasabi.com/httpdocs/templates_c/Aquasabi20/8745efbd2d39c4365200f1b8821690eee368d410_0.file.details.tpl.php(1363): Smarty_Internal_Runtime_Inheritance->instanceBlock() #35 /var/www/vhosts/aquasabi.com/httpdocs/includes/vendor/smarty/smarty/libs/sysplugins/smarty_internal_runtime_inheritance.php(248): Block_1124414674647dcaa0a47a65_19312904->callBlock() #36 /var/www/vhosts/aquasabi.com/httpdocs/includes/vendor/smarty/smarty/libs/sysplugins/smarty_internal_runtime_inheritance.php(184): Smarty_Internal_Runtime_Inheritance->callBlock() #37 /var/www/vhosts/aquasabi.com/httpdocs/includes/vendor/smarty/smarty/libs/sysplugins/smarty_internal_runtime_inheritance.php(186): Smarty_Internal_Runtime_Inheritance->process() #38 /var/www/vhosts/aquasabi.com/httpdocs/includes/vendor/smarty/smarty/libs/sysplugins/smarty_internal_runtime_inheritance.php(156): Smarty_Internal_Runtime_Inheritance->process() #39 /var/www/vhosts/aquasabi.com/httpdocs/templates_c/Aquasabi20/8745efbd2d39c4365200f1b8821690eee368d410_0.file.details.tpl.php(41): Smarty_Internal_Runtime_Inheritance->instanceBlock() #40 /var/www/vhosts/aquasabi.com/httpdocs/includes/vendor/smarty/smarty/libs/sysplugins/smarty_template_resource_base.php(123): content_647dcaa0a86f20_06704706() #41 /var/www/vhosts/aquasabi.com/httpdocs/includes/vendor/smarty/smarty/libs/sysplugins/smarty_template_compiled.php(114): Smarty_Template_Resource_Base->getRenderedTemplateCode() #42 /var/www/vhosts/aquasabi.com/httpdocs/includes/vendor/smarty/smarty/libs/sysplugins/smarty_internal_template.php(216): Smarty_Template_Compiled->render() #43 /var/www/vhosts/aquasabi.com/httpdocs/includes/src/Smarty/JTLSmartyTemplateClass.php(54): Smarty_Internal_Template->render() #44 /var/www/vhosts/aquasabi.com/httpdocs/includes/vendor/smarty/smarty/libs/sysplugins/smarty_internal_template.php(385): JTL\Smarty\JTLSmartyTemplateClass->render() #45 /var/www/vhosts/aquasabi.com/httpdocs/includes/src/Smarty/JTLSmartyTemplateClass.php(32): Smarty_Internal_Template->_subTemplateRender() #46 /var/www/vhosts/aquasabi.com/httpdocs/templates_c/Aquasabi20/5a9811d6e511de0993c41bba25b770bbeff343f3_0.extends.details.tpl.php(24): JTL\Smarty\JTLSmartyTemplateClass->_subTemplateRender() #47 /var/www/vhosts/aquasabi.com/httpdocs/includes/vendor/smarty/smarty/libs/sysplugins/smarty_template_resource_base.php(123): content_647dcaa0a163c6_40200859() #48 /var/www/vhosts/aquasabi.com/httpdocs/includes/vendor/smarty/smarty/libs/sysplugins/smarty_template_compiled.php(114): Smarty_Template_Resource_Base->getRenderedTemplateCode() #49 /var/www/vhosts/aquasabi.com/httpdocs/includes/vendor/smarty/smarty/libs/sysplugins/smarty_internal_template.php(216): Smarty_Template_Compiled->render() #50 /var/www/vhosts/aquasabi.com/httpdocs/includes/src/Smarty/JTLSmartyTemplateClass.php(54): Smarty_Internal_Template->render() #51 /var/www/vhosts/aquasabi.com/httpdocs/includes/vendor/smarty/smarty/libs/sysplugins/smarty_internal_template.php(385): JTL\Smarty\JTLSmartyTemplateClass->render() #52 /var/www/vhosts/aquasabi.com/httpdocs/includes/src/Smarty/JTLSmartyTemplateClass.php(32): Smarty_Internal_Template->_subTemplateRender() #53 /var/www/vhosts/aquasabi.com/httpdocs/templates_c/Aquasabi20/7efbff25f1a40bb2b31aa7ef7f3c58936ec9f25f_0.file.index.tpl.php(92): JTL\Smarty\JTLSmartyTemplateClass->_subTemplateRender() #54 /var/www/vhosts/aquasabi.com/httpdocs/includes/vendor/smarty/smarty/libs/sysplugins/smarty_internal_runtime_inheritance.php(248): Block_426712097647dcaa09dcf64_07252789->callBlock() #55 /var/www/vhosts/aquasabi.com/httpdocs/includes/vendor/smarty/smarty/libs/sysplugins/smarty_internal_runtime_inheritance.php(184): Smarty_Internal_Runtime_Inheritance->callBlock() #56 /var/www/vhosts/aquasabi.com/httpdocs/includes/vendor/smarty/smarty/libs/sysplugins/smarty_internal_runtime_inheritance.php(156): Smarty_Internal_Runtime_Inheritance->process() #57 /var/www/vhosts/aquasabi.com/httpdocs/templates_c/Aquasabi20/7efbff25f1a40bb2b31aa7ef7f3c58936ec9f25f_0.file.index.tpl.php(112): Smarty_Internal_Runtime_Inheritance->instanceBlock() #58 /var/www/vhosts/aquasabi.com/httpdocs/includes/vendor/smarty/smarty/libs/sysplugins/smarty_internal_runtime_inheritance.php(248): Block_475230209647dcaa09dc315_66073117->callBlock() #59 /var/www/vhosts/aquasabi.com/httpdocs/includes/vendor/smarty/smarty/libs/sysplugins/smarty_internal_runtime_inheritance.php(184): Smarty_Internal_Runtime_Inheritance->callBlock() #60 /var/www/vhosts/aquasabi.com/httpdocs/includes/vendor/smarty/smarty/libs/sysplugins/smarty_internal_runtime_inheritance.php(156): Smarty_Internal_Runtime_Inheritance->process() #61 /var/www/vhosts/aquasabi.com/httpdocs/templates_c/Aquasabi20/7efbff25f1a40bb2b31aa7ef7f3c58936ec9f25f_0.file.index.tpl.php(143): Smarty_Internal_Runtime_Inheritance->instanceBlock() #62 /var/www/vhosts/aquasabi.com/httpdocs/includes/vendor/smarty/smarty/libs/sysplugins/smarty_internal_runtime_inheritance.php(248): Block_823208377647dcaa09d9a96_20526299->callBlock() #63 /var/www/vhosts/aquasabi.com/httpdocs/includes/vendor/smarty/smarty/libs/sysplugins/smarty_internal_runtime_inheritance.php(184): Smarty_Internal_Runtime_Inheritance->callBlock() #64 /var/www/vhosts/aquasabi.com/httpdocs/includes/vendor/smarty/smarty/libs/sysplugins/smarty_internal_runtime_inheritance.php(156): Smarty_Internal_Runtime_Inheritance->process() #65 /var/www/vhosts/aquasabi.com/httpdocs/templates_c/Aquasabi20/7efbff25f1a40bb2b31aa7ef7f3c58936ec9f25f_0.file.index.tpl.php(214): Smarty_Internal_Runtime_Inheritance->instanceBlock() #66 /var/www/vhosts/aquasabi.com/httpdocs/includes/vendor/smarty/smarty/libs/sysplugins/smarty_internal_runtime_inheritance.php(248): Block_156249982647dcaa09d88f6_24597422->callBlock() #67 /var/www/vhosts/aquasabi.com/httpdocs/includes/vendor/smarty/smarty/libs/sysplugins/smarty_internal_runtime_inheritance.php(184): Smarty_Internal_Runtime_Inheritance->callBlock() #68 /var/www/vhosts/aquasabi.com/httpdocs/includes/vendor/smarty/smarty/libs/sysplugins/smarty_internal_runtime_inheritance.php(186): Smarty_Internal_Runtime_Inheritance->process() #69 /var/www/vhosts/aquasabi.com/httpdocs/includes/vendor/smarty/smarty/libs/sysplugins/smarty_internal_runtime_inheritance.php(156): Smarty_Internal_Runtime_Inheritance->process() #70 /var/www/vhosts/aquasabi.com/httpdocs/templates_c/Aquasabi20/7efbff25f1a40bb2b31aa7ef7f3c58936ec9f25f_0.file.index.tpl.php(32): Smarty_Internal_Runtime_Inheritance->instanceBlock() #71 /var/www/vhosts/aquasabi.com/httpdocs/includes/vendor/smarty/smarty/libs/sysplugins/smarty_template_resource_base.php(123): content_647dcaa09de717_38680629() #72 /var/www/vhosts/aquasabi.com/httpdocs/includes/vendor/smarty/smarty/libs/sysplugins/smarty_template_compiled.php(114): Smarty_Template_Resource_Base->getRenderedTemplateCode() #73 /var/www/vhosts/aquasabi.com/httpdocs/includes/vendor/smarty/smarty/libs/sysplugins/smarty_internal_template.php(216): Smarty_Template_Compiled->render() #74 /var/www/vhosts/aquasabi.com/httpdocs/includes/src/Smarty/JTLSmartyTemplateClass.php(54): Smarty_Internal_Template->render() #75 /var/www/vhosts/aquasabi.com/httpdocs/includes/vendor/smarty/smarty/libs/sysplugins/smarty_internal_template.php(385): JTL\Smarty\JTLSmartyTemplateClass->render() #76 /var/www/vhosts/aquasabi.com/httpdocs/includes/src/Smarty/JTLSmartyTemplateClass.php(32): Smarty_Internal_Template->_subTemplateRender() #77 /var/www/vhosts/aquasabi.com/httpdocs/templates_c/Aquasabi20/2d16da2f76b1a1dd282291ccc01b364f1af72cd8_0.extends.index.tpl.php(24): JTL\Smarty\JTLSmartyTemplateClass->_subTemplateRender() #78 /var/www/vhosts/aquasabi.com/httpdocs/includes/vendor/smarty/smarty/libs/sysplugins/smarty_template_resource_base.php(123): content_647dcaa09beab8_61183253() #79 /var/www/vhosts/aquasabi.com/httpdocs/includes/vendor/smarty/smarty/libs/sysplugins/smarty_template_compiled.php(114): Smarty_Template_Resource_Base->getRenderedTemplateCode() #80 /var/www/vhosts/aquasabi.com/httpdocs/includes/vendor/smarty/smarty/libs/sysplugins/smarty_internal_template.php(216): Smarty_Template_Compiled->render() #81 /var/www/vhosts/aquasabi.com/httpdocs/includes/src/Smarty/JTLSmartyTemplateClass.php(54): Smarty_Internal_Template->render() #82 /var/www/vhosts/aquasabi.com/httpdocs/includes/vendor/smarty/smarty/libs/sysplugins/smarty_internal_templatebase.php(232): JTL\Smarty\JTLSmartyTemplateClass->render() #83 /var/www/vhosts/aquasabi.com/httpdocs/includes/vendor/smarty/smarty/libs/sysplugins/smarty_internal_templatebase.php(134): Smarty_Internal_TemplateBase->_execute() #84 /var/www/vhosts/aquasabi.com/httpdocs/includes/src/Smarty/JTLSmarty.php(363): Smarty_Internal_TemplateBase->display() #85 /var/www/vhosts/aquasabi.com/httpdocs/artikel.php(298): JTL\Smarty\JTLSmarty->display() #86 /var/www/vhosts/aquasabi.com/httpdocs/index.php(13): require('...') #87 {main} thrown in /var/www/vhosts/aquasabi.com/httpdocs/templates/Aquasabi20/Plugins.php on line 112