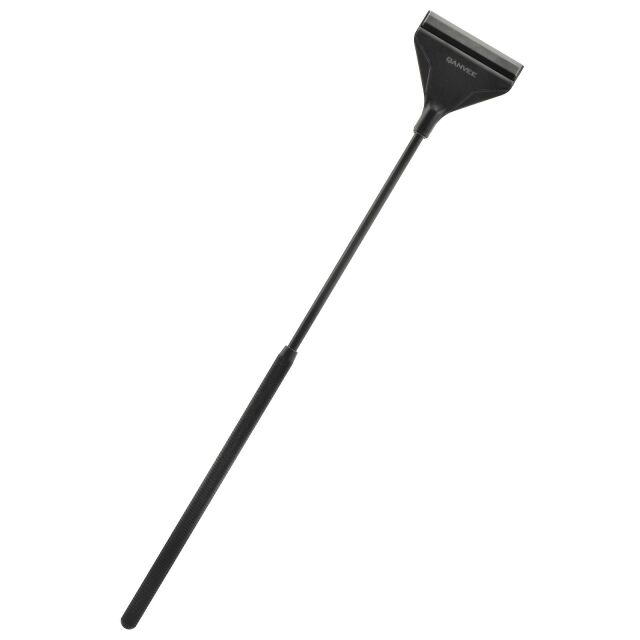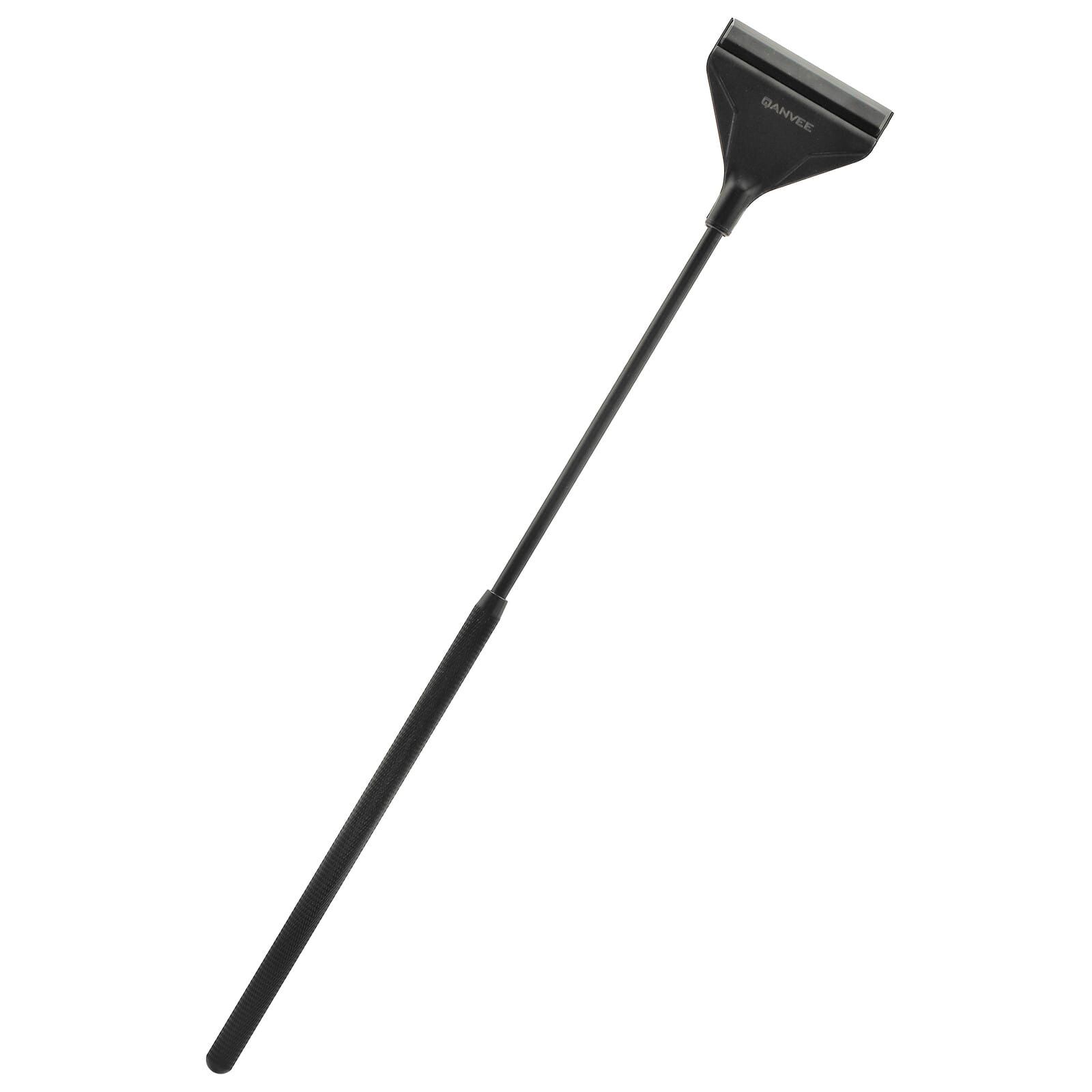 Stylish black Scraper

Interchangeable blades

For small aquariums
Free shipping on orders over € 50.- within Germany
Express delivery possible
1-3 business days - order today and we'll deliver

Thursday

at the earliest
I want to order to
confirm
Item question
We're here for you!
Please enter your question and e-mail and we'll contact you as soon as possible. It usually takes us up to 24 hours during business days to respond.
Thank you for your question!
Thank you, we'll get in touch!
Close window
You already sent us a question.
Please wait a few minutes
Description
Qanvee small NaNo-Q is the perfect tool for a clear view into the aquarium. The black scraper is made of an aluminium-magnesium alloy and is therefore free from corrosion. The holder can be assembled easily using the threads provided. After use, the scraper can effortlessly be taken apart again for storage. The blades can be replaced quickly with the help of the included hex key. Each package contains 10 of the blades that can be used on both sides.
Feartures
Stylish black scraper for clean aquarium glass
Replaceable blades for long use
Useful tool for small aquariums
Dimensions
Qanvee NaNo-Q
Lenght
410 mm
Width head
64 mm
Holder diameter
10 mm
Qanvee

Fatal error: Uncaught TypeError: str_replace(): Argument #3 ($subject) must be of type array|string, null given in /var/www/vhosts/aquasabi.com/httpdocs/templates/Aquasabi20/Plugins.php:67 Stack trace: #0 /var/www/vhosts/aquasabi.com/httpdocs/templates/Aquasabi20/Plugins.php(67): str_replace() #1 /var/www/vhosts/aquasabi.com/httpdocs/templates_c/Aquasabi20/1e5c6b3b9b0f39712662d80b246d437c3952bd97_0.file.tabs.tpl.php(519): Template\Aquasabi20\Plugins->aquasabiPrepareCo2() #2 /var/www/vhosts/aquasabi.com/httpdocs/includes/vendor/smarty/smarty/libs/sysplugins/smarty_internal_runtime_inheritance.php(248): Block_49601324646f72c3d0c142_00025707->callBlock() #3 /var/www/vhosts/aquasabi.com/httpdocs/includes/vendor/smarty/smarty/libs/sysplugins/smarty_internal_runtime_inheritance.php(184): Smarty_Internal_Runtime_Inheritance->callBlock() #4 /var/www/vhosts/aquasabi.com/httpdocs/includes/vendor/smarty/smarty/libs/sysplugins/smarty_internal_runtime_inheritance.php(186): Smarty_Internal_Runtime_Inheritance->process() #5 /var/www/vhosts/aquasabi.com/httpdocs/includes/vendor/smarty/smarty/libs/sysplugins/smarty_internal_runtime_inheritance.php(156): Smarty_Internal_Runtime_Inheritance->process() #6 /var/www/vhosts/aquasabi.com/httpdocs/templates_c/Aquasabi20/a50b9e797dd6428d3a4b457f82958aec2f855111_0.file.tabs.tpl.php(1632): Smarty_Internal_Runtime_Inheritance->instanceBlock() #7 /var/www/vhosts/aquasabi.com/httpdocs/includes/vendor/smarty/smarty/libs/sysplugins/smarty_internal_runtime_inheritance.php(248): Block_2027379400646f72c3d571f6_70646635->callBlock() #8 /var/www/vhosts/aquasabi.com/httpdocs/includes/vendor/smarty/smarty/libs/sysplugins/smarty_internal_runtime_inheritance.php(184): Smarty_Internal_Runtime_Inheritance->callBlock() #9 /var/www/vhosts/aquasabi.com/httpdocs/includes/vendor/smarty/smarty/libs/sysplugins/smarty_internal_runtime_inheritance.php(186): Smarty_Internal_Runtime_Inheritance->process() #10 /var/www/vhosts/aquasabi.com/httpdocs/includes/vendor/smarty/smarty/libs/sysplugins/smarty_internal_runtime_inheritance.php(156): Smarty_Internal_Runtime_Inheritance->process() #11 /var/www/vhosts/aquasabi.com/httpdocs/templates_c/Aquasabi20/a50b9e797dd6428d3a4b457f82958aec2f855111_0.file.tabs.tpl.php(33): Smarty_Internal_Runtime_Inheritance->instanceBlock() #12 /var/www/vhosts/aquasabi.com/httpdocs/includes/vendor/smarty/smarty/libs/sysplugins/smarty_template_resource_base.php(123): content_646f72c3dbd286_81082551() #13 /var/www/vhosts/aquasabi.com/httpdocs/includes/vendor/smarty/smarty/libs/sysplugins/smarty_template_compiled.php(114): Smarty_Template_Resource_Base->getRenderedTemplateCode() #14 /var/www/vhosts/aquasabi.com/httpdocs/includes/vendor/smarty/smarty/libs/sysplugins/smarty_internal_template.php(216): Smarty_Template_Compiled->render() #15 /var/www/vhosts/aquasabi.com/httpdocs/includes/src/Smarty/JTLSmartyTemplateClass.php(54): Smarty_Internal_Template->render() #16 /var/www/vhosts/aquasabi.com/httpdocs/includes/vendor/smarty/smarty/libs/sysplugins/smarty_internal_template.php(385): JTL\Smarty\JTLSmartyTemplateClass->render() #17 /var/www/vhosts/aquasabi.com/httpdocs/includes/src/Smarty/JTLSmartyTemplateClass.php(32): Smarty_Internal_Template->_subTemplateRender() #18 /var/www/vhosts/aquasabi.com/httpdocs/templates_c/Aquasabi20/eaebf0311e0a7f244dfe44b447847177b9a09825_0.extends.tabs.tpl.php(24): JTL\Smarty\JTLSmartyTemplateClass->_subTemplateRender() #19 /var/www/vhosts/aquasabi.com/httpdocs/includes/vendor/smarty/smarty/libs/sysplugins/smarty_template_resource_base.php(123): content_646f72c3d0a005_82956364() #20 /var/www/vhosts/aquasabi.com/httpdocs/includes/vendor/smarty/smarty/libs/sysplugins/smarty_template_compiled.php(114): Smarty_Template_Resource_Base->getRenderedTemplateCode() #21 /var/www/vhosts/aquasabi.com/httpdocs/includes/vendor/smarty/smarty/libs/sysplugins/smarty_internal_template.php(216): Smarty_Template_Compiled->render() #22 /var/www/vhosts/aquasabi.com/httpdocs/includes/src/Smarty/JTLSmartyTemplateClass.php(54): Smarty_Internal_Template->render() #23 /var/www/vhosts/aquasabi.com/httpdocs/includes/vendor/smarty/smarty/libs/sysplugins/smarty_internal_template.php(385): JTL\Smarty\JTLSmartyTemplateClass->render() #24 /var/www/vhosts/aquasabi.com/httpdocs/includes/src/Smarty/JTLSmartyTemplateClass.php(32): Smarty_Internal_Template->_subTemplateRender() #25 /var/www/vhosts/aquasabi.com/httpdocs/templates_c/Aquasabi20/f167cde6800ab530d40e9649f54d616f92132740_0.file.details.tpl.php(795): JTL\Smarty\JTLSmartyTemplateClass->_subTemplateRender() #26 /var/www/vhosts/aquasabi.com/httpdocs/includes/vendor/smarty/smarty/libs/sysplugins/smarty_internal_runtime_inheritance.php(248): Block_631163799646f72c39e91b5_22574859->callBlock() #27 /var/www/vhosts/aquasabi.com/httpdocs/includes/vendor/smarty/smarty/libs/sysplugins/smarty_internal_runtime_inheritance.php(184): Smarty_Internal_Runtime_Inheritance->callBlock() #28 /var/www/vhosts/aquasabi.com/httpdocs/includes/vendor/smarty/smarty/libs/sysplugins/smarty_internal_runtime_inheritance.php(156): Smarty_Internal_Runtime_Inheritance->process() #29 /var/www/vhosts/aquasabi.com/httpdocs/templates_c/Aquasabi20/f167cde6800ab530d40e9649f54d616f92132740_0.file.details.tpl.php(836): Smarty_Internal_Runtime_Inheritance->instanceBlock() #30 /var/www/vhosts/aquasabi.com/httpdocs/includes/vendor/smarty/smarty/libs/sysplugins/smarty_internal_runtime_inheritance.php(248): Block_775112625646f72c39e8e90_07552402->callBlock() #31 /var/www/vhosts/aquasabi.com/httpdocs/includes/vendor/smarty/smarty/libs/sysplugins/smarty_internal_runtime_inheritance.php(184): Smarty_Internal_Runtime_Inheritance->callBlock() #32 /var/www/vhosts/aquasabi.com/httpdocs/includes/vendor/smarty/smarty/libs/sysplugins/smarty_internal_runtime_inheritance.php(186): Smarty_Internal_Runtime_Inheritance->process() #33 /var/www/vhosts/aquasabi.com/httpdocs/includes/vendor/smarty/smarty/libs/sysplugins/smarty_internal_runtime_inheritance.php(156): Smarty_Internal_Runtime_Inheritance->process() #34 /var/www/vhosts/aquasabi.com/httpdocs/templates_c/Aquasabi20/d511166ee481db21563267ad208df7fab081b873_0.file.details.tpl.php(1363): Smarty_Internal_Runtime_Inheritance->instanceBlock() #35 /var/www/vhosts/aquasabi.com/httpdocs/includes/vendor/smarty/smarty/libs/sysplugins/smarty_internal_runtime_inheritance.php(248): Block_2012232066646f72c39f24d2_49454703->callBlock() #36 /var/www/vhosts/aquasabi.com/httpdocs/includes/vendor/smarty/smarty/libs/sysplugins/smarty_internal_runtime_inheritance.php(184): Smarty_Internal_Runtime_Inheritance->callBlock() #37 /var/www/vhosts/aquasabi.com/httpdocs/includes/vendor/smarty/smarty/libs/sysplugins/smarty_internal_runtime_inheritance.php(186): Smarty_Internal_Runtime_Inheritance->process() #38 /var/www/vhosts/aquasabi.com/httpdocs/includes/vendor/smarty/smarty/libs/sysplugins/smarty_internal_runtime_inheritance.php(156): Smarty_Internal_Runtime_Inheritance->process() #39 /var/www/vhosts/aquasabi.com/httpdocs/templates_c/Aquasabi20/d511166ee481db21563267ad208df7fab081b873_0.file.details.tpl.php(41): Smarty_Internal_Runtime_Inheritance->instanceBlock() #40 /var/www/vhosts/aquasabi.com/httpdocs/includes/vendor/smarty/smarty/libs/sysplugins/smarty_template_resource_base.php(123): content_646f72c3a46438_16934545() #41 /var/www/vhosts/aquasabi.com/httpdocs/includes/vendor/smarty/smarty/libs/sysplugins/smarty_template_compiled.php(114): Smarty_Template_Resource_Base->getRenderedTemplateCode() #42 /var/www/vhosts/aquasabi.com/httpdocs/includes/vendor/smarty/smarty/libs/sysplugins/smarty_internal_template.php(216): Smarty_Template_Compiled->render() #43 /var/www/vhosts/aquasabi.com/httpdocs/includes/src/Smarty/JTLSmartyTemplateClass.php(54): Smarty_Internal_Template->render() #44 /var/www/vhosts/aquasabi.com/httpdocs/includes/vendor/smarty/smarty/libs/sysplugins/smarty_internal_template.php(385): JTL\Smarty\JTLSmartyTemplateClass->render() #45 /var/www/vhosts/aquasabi.com/httpdocs/includes/src/Smarty/JTLSmartyTemplateClass.php(32): Smarty_Internal_Template->_subTemplateRender() #46 /var/www/vhosts/aquasabi.com/httpdocs/templates_c/Aquasabi20/374a6546085e946a214c5bc5fc8ebe9491836de7_0.extends.details.tpl.php(24): JTL\Smarty\JTLSmartyTemplateClass->_subTemplateRender() #47 /var/www/vhosts/aquasabi.com/httpdocs/includes/vendor/smarty/smarty/libs/sysplugins/smarty_template_resource_base.php(123): content_646f72c39af471_69482220() #48 /var/www/vhosts/aquasabi.com/httpdocs/includes/vendor/smarty/smarty/libs/sysplugins/smarty_template_compiled.php(114): Smarty_Template_Resource_Base->getRenderedTemplateCode() #49 /var/www/vhosts/aquasabi.com/httpdocs/includes/vendor/smarty/smarty/libs/sysplugins/smarty_internal_template.php(216): Smarty_Template_Compiled->render() #50 /var/www/vhosts/aquasabi.com/httpdocs/includes/src/Smarty/JTLSmartyTemplateClass.php(54): Smarty_Internal_Template->render() #51 /var/www/vhosts/aquasabi.com/httpdocs/includes/vendor/smarty/smarty/libs/sysplugins/smarty_internal_template.php(385): JTL\Smarty\JTLSmartyTemplateClass->render() #52 /var/www/vhosts/aquasabi.com/httpdocs/includes/src/Smarty/JTLSmartyTemplateClass.php(32): Smarty_Internal_Template->_subTemplateRender() #53 /var/www/vhosts/aquasabi.com/httpdocs/templates_c/Aquasabi20/71cb59b3c6b4b50f27122f916429e3bf9cb8dfd1_0.file.index.tpl.php(92): JTL\Smarty\JTLSmartyTemplateClass->_subTemplateRender() #54 /var/www/vhosts/aquasabi.com/httpdocs/includes/vendor/smarty/smarty/libs/sysplugins/smarty_internal_runtime_inheritance.php(248): Block_1137004457646f72c369ebc6_52352396->callBlock() #55 /var/www/vhosts/aquasabi.com/httpdocs/includes/vendor/smarty/smarty/libs/sysplugins/smarty_internal_runtime_inheritance.php(184): Smarty_Internal_Runtime_Inheritance->callBlock() #56 /var/www/vhosts/aquasabi.com/httpdocs/includes/vendor/smarty/smarty/libs/sysplugins/smarty_internal_runtime_inheritance.php(156): Smarty_Internal_Runtime_Inheritance->process() #57 /var/www/vhosts/aquasabi.com/httpdocs/templates_c/Aquasabi20/71cb59b3c6b4b50f27122f916429e3bf9cb8dfd1_0.file.index.tpl.php(112): Smarty_Internal_Runtime_Inheritance->instanceBlock() #58 /var/www/vhosts/aquasabi.com/httpdocs/includes/vendor/smarty/smarty/libs/sysplugins/smarty_internal_runtime_inheritance.php(248): Block_524841803646f72c369e0a1_20215095->callBlock() #59 /var/www/vhosts/aquasabi.com/httpdocs/includes/vendor/smarty/smarty/libs/sysplugins/smarty_internal_runtime_inheritance.php(184): Smarty_Internal_Runtime_Inheritance->callBlock() #60 /var/www/vhosts/aquasabi.com/httpdocs/includes/vendor/smarty/smarty/libs/sysplugins/smarty_internal_runtime_inheritance.php(156): Smarty_Internal_Runtime_Inheritance->process() #61 /var/www/vhosts/aquasabi.com/httpdocs/templates_c/Aquasabi20/71cb59b3c6b4b50f27122f916429e3bf9cb8dfd1_0.file.index.tpl.php(143): Smarty_Internal_Runtime_Inheritance->instanceBlock() #62 /var/www/vhosts/aquasabi.com/httpdocs/includes/vendor/smarty/smarty/libs/sysplugins/smarty_internal_runtime_inheritance.php(248): Block_1389460327646f72c369b882_09542830->callBlock() #63 /var/www/vhosts/aquasabi.com/httpdocs/includes/vendor/smarty/smarty/libs/sysplugins/smarty_internal_runtime_inheritance.php(184): Smarty_Internal_Runtime_Inheritance->callBlock() #64 /var/www/vhosts/aquasabi.com/httpdocs/includes/vendor/smarty/smarty/libs/sysplugins/smarty_internal_runtime_inheritance.php(156): Smarty_Internal_Runtime_Inheritance->process() #65 /var/www/vhosts/aquasabi.com/httpdocs/templates_c/Aquasabi20/71cb59b3c6b4b50f27122f916429e3bf9cb8dfd1_0.file.index.tpl.php(214): Smarty_Internal_Runtime_Inheritance->instanceBlock() #66 /var/www/vhosts/aquasabi.com/httpdocs/includes/vendor/smarty/smarty/libs/sysplugins/smarty_internal_runtime_inheritance.php(248): Block_1799070116646f72c369a7d1_51363300->callBlock() #67 /var/www/vhosts/aquasabi.com/httpdocs/includes/vendor/smarty/smarty/libs/sysplugins/smarty_internal_runtime_inheritance.php(184): Smarty_Internal_Runtime_Inheritance->callBlock() #68 /var/www/vhosts/aquasabi.com/httpdocs/includes/vendor/smarty/smarty/libs/sysplugins/smarty_internal_runtime_inheritance.php(186): Smarty_Internal_Runtime_Inheritance->process() #69 /var/www/vhosts/aquasabi.com/httpdocs/includes/vendor/smarty/smarty/libs/sysplugins/smarty_internal_runtime_inheritance.php(156): Smarty_Internal_Runtime_Inheritance->process() #70 /var/www/vhosts/aquasabi.com/httpdocs/templates_c/Aquasabi20/71cb59b3c6b4b50f27122f916429e3bf9cb8dfd1_0.file.index.tpl.php(32): Smarty_Internal_Runtime_Inheritance->instanceBlock() #71 /var/www/vhosts/aquasabi.com/httpdocs/includes/vendor/smarty/smarty/libs/sysplugins/smarty_template_resource_base.php(123): content_646f72c36a0347_27737372() #72 /var/www/vhosts/aquasabi.com/httpdocs/includes/vendor/smarty/smarty/libs/sysplugins/smarty_template_compiled.php(114): Smarty_Template_Resource_Base->getRenderedTemplateCode() #73 /var/www/vhosts/aquasabi.com/httpdocs/includes/vendor/smarty/smarty/libs/sysplugins/smarty_internal_template.php(216): Smarty_Template_Compiled->render() #74 /var/www/vhosts/aquasabi.com/httpdocs/includes/src/Smarty/JTLSmartyTemplateClass.php(54): Smarty_Internal_Template->render() #75 /var/www/vhosts/aquasabi.com/httpdocs/includes/vendor/smarty/smarty/libs/sysplugins/smarty_internal_template.php(385): JTL\Smarty\JTLSmartyTemplateClass->render() #76 /var/www/vhosts/aquasabi.com/httpdocs/includes/src/Smarty/JTLSmartyTemplateClass.php(32): Smarty_Internal_Template->_subTemplateRender() #77 /var/www/vhosts/aquasabi.com/httpdocs/templates_c/Aquasabi20/ec2a6e47e3d1c85bc5984d1f943438fcf03255c6_0.extends.index.tpl.php(24): JTL\Smarty\JTLSmartyTemplateClass->_subTemplateRender() #78 /var/www/vhosts/aquasabi.com/httpdocs/includes/vendor/smarty/smarty/libs/sysplugins/smarty_template_resource_base.php(123): content_646f72c3686e49_97836238() #79 /var/www/vhosts/aquasabi.com/httpdocs/includes/vendor/smarty/smarty/libs/sysplugins/smarty_template_compiled.php(114): Smarty_Template_Resource_Base->getRenderedTemplateCode() #80 /var/www/vhosts/aquasabi.com/httpdocs/includes/vendor/smarty/smarty/libs/sysplugins/smarty_internal_template.php(216): Smarty_Template_Compiled->render() #81 /var/www/vhosts/aquasabi.com/httpdocs/includes/src/Smarty/JTLSmartyTemplateClass.php(54): Smarty_Internal_Template->render() #82 /var/www/vhosts/aquasabi.com/httpdocs/includes/vendor/smarty/smarty/libs/sysplugins/smarty_internal_templatebase.php(232): JTL\Smarty\JTLSmartyTemplateClass->render() #83 /var/www/vhosts/aquasabi.com/httpdocs/includes/vendor/smarty/smarty/libs/sysplugins/smarty_internal_templatebase.php(134): Smarty_Internal_TemplateBase->_execute() #84 /var/www/vhosts/aquasabi.com/httpdocs/includes/src/Smarty/JTLSmarty.php(363): Smarty_Internal_TemplateBase->display() #85 /var/www/vhosts/aquasabi.com/httpdocs/artikel.php(298): JTL\Smarty\JTLSmarty->display() #86 /var/www/vhosts/aquasabi.com/httpdocs/index.php(13): require('...') #87 {main} thrown in /var/www/vhosts/aquasabi.com/httpdocs/templates/Aquasabi20/Plugins.php on line 67