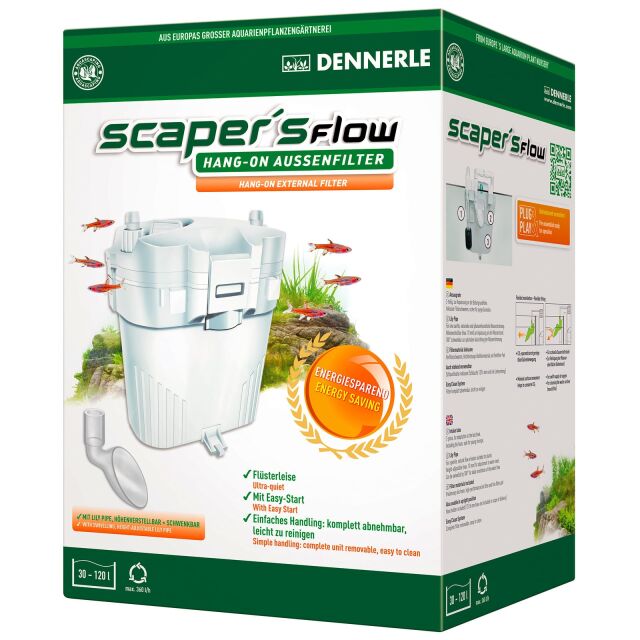 Ultra-quiet

Easy clean system

Lily pipe vertically adjustable and rotatable

Filter material included

Secure for baby-shrimp
Item question
We're here for you!
Please enter your question and e-mail and we'll contact you as soon as possible. It usually takes us up to 24 hours during business days to respond.
Thank you for your question!
Thank you, we'll get in touch!
Close window
You already sent us a question.
Please wait a few minutes
Description
Scaper´s Flow is an external hang-on filter from Dennerle. It is very well suited for filtering the water and enriching it with oxygen. With it´s vertically and horizontally adjustable lily pipe it can easily be customized to fit the needs of almost every possible layout.
Features
Lily pipe is vertically adjustable (max. 10 mm) to adapt to the water level
Lily pipe rotates through 180° for optimum orientation of the water flow
Ultra-quiet
Easy clean system: completely removable, easy to clean
Filter material included: pre-filter sponge, high-performance bio-filter material and fine filter pad
Secure for baby-shrimp
Two-parts Intake pipe to adapt to the height of the substrate
Functionality of the newly developed lily pipe
The lily pipe rotates flexibly through 180°. This allows optimum alignment of the water flow. It is also vertically adjustable (max. 10 mm) to adapt to the water level.
Daytime position: if the filter is connected to the bottom catch, the lily pipe outlet is completely under water. Thanks to its fanned out shape, the lily pipe also creates a gentle, natural, plant-friendly water flow that supports moderate gas exchange. This means the CO2 needed by the plants is not excessively driven out.
Night time position: by raising the top clip the lily pipe is not fully under water. This creates a small whirlpool that removes any possible mould residue and introduces additional oxygen into the aquarium.
Technical data
Scaper's Flow - Hang-on filter
Flow rate
450 Litres per hour
Power consumption
5,6 Watt
Dimensions (filter only)
180 x 120 x 200 mm (WxDxH)
Dimensions (total)
180 x 155 x 265 mm (WxDxH)
Hose dimensions
12/16 i.e. 13 mm
max. glas strengh
10 mm
Immersion depth (vert.)
ca. 165 mm
Immersion depth (horiz.)
ca. 65 mm
Hight above tank
ca. 20 mm
Warranty
2-year warranty
Dennerle guarantees the performance of this product for the duration of 24 months, given that the purchasing person is also the consumer. The legal defect rights towards Aquasabi GmbH & Co. KG according to §§ 437 ff. BGB (German Civil Code) are not compromised by this warranty.
Extract from the warranty policy by Dennerle
"Guarantee period: 24 months (except wearing parts)
When submitting guarantee claims, please send the equipment to Dennerle's Customer Service department together with the receipt providing proof of purchase. The guarantee covers manufacturing and material defects. Defective parts will be replaced or repaired free of charge during the guarantee period, provided that the equipment has been used only in the correct manner and for the intended purpose. During the guarantee period, the device may only be opened by Dennerle's Customer Service personnel, otherwise the guarantee coverage will lapse. No claims shall be assertible beyond the value of the device, e.g. for damage to fish or plants" Source: User Manual, last viewed 03.11.2021
Dennerle GmbH
Industriestraße 4
66981 Münchweiler an der Rodalb, Germany
kundenservice@dennerle.com
Customer reviews
This item has been rated 5 out of 5 stars
One review
Please sign in if you want to write a review.
Sign in
5 Stars

(1)

4 Stars

(0)

3 Stars

(0)

2 Stars

(0)

1 Star

(0)
Julien B.
Guter Aussenfilter
Ich benutze diesen Filter schon seit über 3 Jahren mit meinem 50l Scaper's Tank und es hat mich nie im Stich gelassen. (read more)